Kingsmen Seventh After Day One at CSU San Marcos Invite
Cal Lutheran in seventh place at +46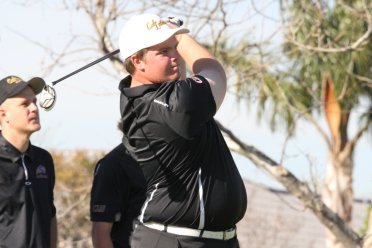 VISTA, Calif. – The Cal Lutheran men's golf team is seventh, shooting a combined score of 622 (+46), after the first two rounds of the Cal State San Marcos Invitational played at Shadowridge Country Club Monday afternoon. The Kingsmen tallied an identical score of 311 in both the first and second rounds.
Individually, junior Mikey McGinn is tied for 18th at seven over par after scoring a 77 in the first round and a 74 during the second round.
Barret McGinnis is tied for 33rd at 11 over, shooting 76 and 79. Teammate Chad Kimmelshue shot 76 and 83 to put him a tie for 46th place.
Bobby Griffin had an eagle on a par five in the second round as the sophomore shot an 82 and 78 (+16) while Parker Colvin rounded out the Kingsmen with an 83 and 80 (+19).
The Kingsmen were the top Southern California Intercollegiate Athletic Conference (SCIAC) finisher of the day as Claremont-Mudd-Scripps finished with a team score of 632 (+56) while Whittier shot 650 (+74) and Occidental finished with a score of 658 (+82).
NAIA member Oklahoma City University leads the tournament after carding a team score of 298 in the first round and 292 in the second.
After playing 36 holes today, the 18-hole final round is set to start Tuesday, Feb. 5, at 8:00 a.m.
Results: First and Second Rounds
Facebook: www.facebook.com/clusports