Wade Gets Right Into Swing of Things
CLU freshman making an impact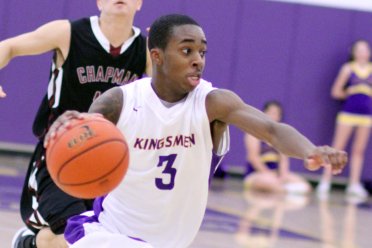 THOUSAND OAKS, Calif. – The offseason pickup games gave Dan Wade a brief introduction to college basketball.
It made the Cal Lutheran freshman realize he had some work to do before he could contribute to the team.
Wade spent many hours in the gym trying to improve his game. He still arrives early and stays late after practice to get up as many shots as possible.
The preparation became even more crucial once CLU lost starting point guard Steven Davis to a torn anterior cruciate ligament in his knee.
Wade was asked to assume a larger role in the offense, and the 5-foot-10 guard has answered the call.
Wade is averaging 26.8 minutes per game for the Kingsmen. He ranks second on the team in scoring with 8.9 points per game, and scored a career-high 22 points two weeks ago in a loss to Claremont-Mudd Scripps.
"I was really shocked when Steve went down, but I figured everybody on the team has to step up, including me," said Wade, an Oxnard High graduate. "I had been starting a little bit with him, but then when he got injured I became the primary ball-handler."
Like most freshmen, the adjustment to the college game has been a continual learning process for Wade.
"The physicality is the biggest thing. Everybody is stronger and faster," Wade said. "I kind of figured that would be the case and I am starting to figure out how to handle it. But I still have some work to do."
Although Wade is content dishing off assists, he's been showcasing his scoring ability in the last few games.
"The coaches have given me a little more confidence and they know I can shoot the ball," he said. "I always try to get my teammates more involved. I would rather make a better pass than shoot, but I will take the open shot to keep teams honest."
Wade's ascendance is part of a youth movement for the Kingsmen. Their roster features only two seniors, and two local freshmen are in the starting lineup.
Forward Corey Quintana, a Ventura High graduate, is right behind Wade in the scoring column with an 8.6-per-game average.
"I really believe with the talent we have now that in a couple of years we are going to be something," Wade said. "I think we are going to be a contender in the SCIAC definitely."