Regals Round Out Regular Season
CLU splits at tri-meet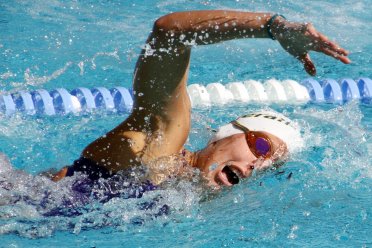 PASADENA, Calif. – In the final Southern California Intercollegiate Athletic Conference (SCIAC) tri-meet of the 2012-13 year the Cal Lutheran women's swimming and diving team earned a split, defeating Caltech 206-67 but falling to Pomona-Pitzer 191-97.
Sheyenne Machida won both diving events, earning a 188.65 on the one-meter and a 175.00 on the three-meter. Teammate Danielle Warmuth was second on the three-meter with a 137.25 and third on the one-meter.
Mimi Harbach continued to dominate SCIAC distance swimmers, winning the 1650 freestyle by more than 22 seconds in 18:21.98. She was then second in the 500, hitting the wall in 5:14.67. Harbach (2:00.47) was third in the 200 free behind teammate Katie Kochalko (2:00.22) as the duo swam stroke-for-stroke. The top spot went to Alex Lincoln who broke the two-minute mark, finishing in 1:58.29.
Kochalko went on to place third in the 200 butterfly, finishing in 2:19.97 and was fourth in the 100 fly with a time of 1:02.10.
Also finishing 2-3 for the Regals today in the 100 backstroke were Shelby Brooks and Brooke Hubbard with times of 1:04.40 and 1:07.16, respectively. Brooks placed fourth in the 200 back in 2:18.38 in a close race, off the third fastest time by just 29 tenths of a second.
The 400 Individual Medley saw Miller finish fourth, as one of three swimmers under the five-minute mark, in 4:58.88 with Brooks not far behind in 5:04.79.
Another second place finish today went to Karissa Winkler who swam the 100 free in 56.97, which was 25 tenths of a second behind Jenna Haufler from Pomona-Pitzer.
Nearly earning a first place finish in the 100 breaststroke, Kelli Miller (1:10.94) was slightly edged, by 82 hundredths of a second, by Mari Pettibone from Pomona-Pitzer. The swim in the 200 breast produced the same result as Miller swam a 2:32.78 for second.
Taylor Faust was third in the mile, finishing in 19:18.24.
Both CLU relays today combined for third place finishes. CLU opened the meet with the 400 Medley Relay team of Brooks, Miller, Kochalko and Juliana Rios clocking in with a time of 4:17.25. The meet concluded with Faust, Rios, Alvina Wong and Sarah Forsythe swimming the 200 Free Relay in 1:45.05.
Cal Lutheran (2-6) will send two divers to the SCIAC Preliminaries on Saturday and Sunday, Feb. 9-10 at the Rose Bowl Aquatics Center. The event will be hosted by Caltech and diving is set to begin at 9:00 a.m. each day.
Results: CLU 206 , CIT 67
Results: PP 191 CLU 97
Facebook: https://www.facebook.com/clusports