Kingsmen Tear Past Panthers, Beavers
CLU season with pair of SCIAC wins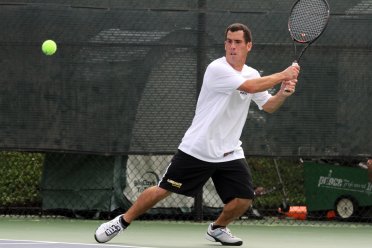 THOUSAND OAKS, Calif. – Opening day for the Cal Lutheran men's tennis team was not only the start of their 2013 quest to play in the postseason, but it was the start of Southern California Intercollegiate Athletic Conference (SCIAC) action as well. CLU took to the Poulson Tennis Center courts at 10:00 a.m. against league opponent Chapman, defeating the Panthers 8-1 before hitting the road to Caltech.
CLU opened a 3-0 lead after doubles with both the No. 1 and No. 2 teams winning 8-2. The No. 3 duo of Connor Treacy and Nick Jacobs battled with Sam Farzani and Eric Wilson to an 8-6 victory and the sweep. At No. 1 it was the tandem of transfer Alex Nichols,making his CLU debut, and Ray Worley while Marcello Souza and Thomas Millet teamed up at No. 2.
Singles play was also controlled by the Kingsmen with all five of the six doubles players earning individual wins today as well.
The transition to CLU was smooth for Nichols who clinched the match for the Kingsmen with a 6-0, 6-1 victory over Troy Akin at the No. 2 spot.
Worley was the first man done in singles, winning 6-1, 6-3 and Jacobson pushed the team score to 6-0 with a 6-4, 6-1 victory on court No. 5. Treacy defeated Brett Buford 6-1, 6-1 at No. 3 and Millet went on to win 6-1, 6-3 over Nick Mulfur as the No. 4 player.
Appearing in the Violet and Gold for the first time was freshman Sean Handley who battled Farzani to the bitter end, falling 4-6, 6-4, 1-0 (10-5) in his collegiate debut.
In the afternoon CLU shutout Caltech, 9-0, as Chris Hartman and Ian Slater each played the first collegiate tennis match of his career. The classmates went on to win at No. 6 and No. 5 singles, respectively, by 6-0, 6-0 and 6-0, 6-1 margins.
Slater and Millet teamed up at No. 2 doubles and defeated Amol Kamat and Rushikesh Joshi 8-2. Hartman worked with Jacobs to earn an 8-3 victory at No. 4 doubles. Worley and Nichols again combined for a win in the No. 1 spot, winning by an 8-3 margin.
Worley, Nichols, Millet and Jacobs won at the No. 1 to 4 spots in singles action this afternoon for the Kingsmen.
Cal Lutheran (2-0, 2-0 SCIAC) will have a two week hiatus before returning to the courts on Tuesday, Feb. 19 when they host Brandeis (Mass.) at 2:00 p.m.
Results: CLU 8, CU 1
Results: CLU 9, CIT 0
Facebook: https://www.facebook.com/clusports