Regals Fall at Westmont
CLU season starts on road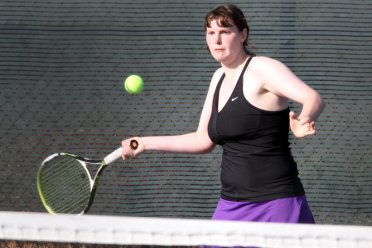 SANTA BARBARA, Calif. – The Cal Lutheran women's tennis season got underway today on the road at the Abbott Tennis Courts as the Regals fell, 7-2, to a tough NAIA team from Westmont.
After doubles CLU trailed 2-1 with the lone victory coming from the No. 1 spot as the freshman-sophomore duo of Emily Werman and Sarah Baker teamed up to defeat Jessica Cedillo and Grace Davis 8-2. At No. 2 doubles Lindsay Murphy and Carly Mouzes gave Emily Keach and Nicci Yvanovich a run, but fell 8-4.
In singles action, Werman went on to post the second victory of her collegiate debut with a 6-1, 6-3 win over Yvanovich at No. 1.
Mouzes and Keach met again as individuals and it was tied entering the third set with each player winning 6-2 in the first two sets. The third game was decided at 10-8, going to Keach.
Also competing for the Violet and Gold today were Jacqueline Ramsay and Lauren Toohey.
Cal Lutheran (0-1) returns to the Poulson Tennis Center on Thursday, Feb. 7 for the season home opener when the Regals host Ventura College at 2:00 p.m.
Results: WEST 7, CLU 2
Facebook: https://www.facebook.com/clusports