Kingsmen Fall Late to Poets
CLU falls in final seconds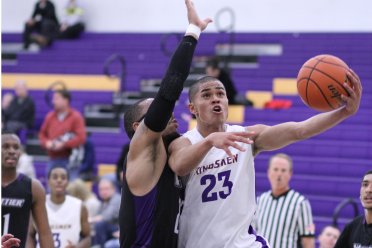 THOUSAND OAKS, Calif. – The Cal Lutheran men's basketball team was looking for their first season sweep of Whittier in three seasons. Wednesday night the Kingsmen fell one point short of accomplishing the feat. Willie Mebane scored 19 points, including 15 in the first half, and Eric Goedde scored 10 as Whittier slipped past the Kingsmen, 56-55, in a game that saw 14 lead changes on Wednesday night in the Gilbert Arena.
Cal Lutheran looked to have its second win in a row over the Poets after Jeremy Sulker-Hall connected for a three-point play that got the fans to their feet and put CLU up 55-54 with 37 seconds left to play.
Despite leading the team in scoring, Mebane made his biggest contribution of night with his passing as Whittier drove down the court on the following possession and the senior guard found Tyree Landrum, who spun and connected on a shot contested by two Kingsmen defenders to put Whittier up by one point with 24 seconds left.
Cal Lutheran would have two chances on its final possession. Jayvaughn Nettles would first fire up a three, which caromed off the rim. Martin Flowers came up with the rebound and had a shot when he and drove to the basket, but was met by a swarm of Poets defenders and was unable to get a shot up before the clock expired.
Just 10 minutes earlier, it looked as if Cal Lutheran would run away with the game. Trailing 35-34, the Kingsmen went on a 9-2 run that was capped by a Corey Quintana three-pointer to put CLU up 45-37 with 11 minutes to go.
However, Whittier would alter its strategy, shifting to a 1-3-1 zone and packed the lane underneath the basket forcing CLU to rely on its perimeter shooting.
The adjustment paid off as Whittier held Cal Lutheran without a basket for the next six minutes and went on an 11-0 run of their own. Eric Jennings and Aaron Fernandez hit three-pointers on back-to-back possessions and gave Whittier the lead at 48-45.
Cal Lutheran would fight back three minutes later when Michael Palmer hit a three-pointer that cut the WC lead to two at 52-50 with 2:38 to play. The Poets would score on their following possession but Sulker-Hall would respond with four straight points, tying the game at 54-54 and setting up the final two minutes of drama.
Mebane led all players with 19 points while Goedde was second for Whittier (10-9, 6-4 SCIAC) with 10. Poet point guard Philip Thomas had seven points, five rebounds and four assists.
Cal Lutheran was led by Sulker-Hall who finished with 14 points while Flowers was second with 13 points. Quintana had the first double-double of his collegiate career, pouring in 10 points and grabbing 11 rebounds.
The loss marked the seventh time this season, including the fourth conference game, that CLU has lost by five or less points.
Cal Lutheran (8-12, 4-7) will be back in action next Saturday when they travel to Eagle Rock, Calif., to take on Occidental at 7:00 p.m.
Box Score: WC 56 CLU 55
Facebook: www.facebook.com/clusports