Regals, Panthers Win on Day One of Thanksgiving Tournament
CLU defeats Carleton, CU upsets George Fox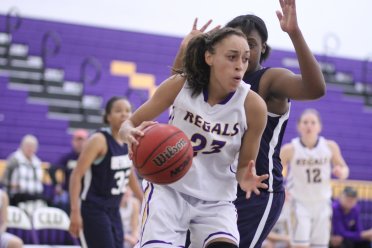 THOUSAND OAKS, Calif. – In the first day of the Posada Royale Thanksgiving Classic, Cal Lutheran defeated Carleton (Minn.) 70-58 before Chapman upset George Fox 56-46 in the night cap Friday evening in the Gilbert Sports Arena.
The first game of the double-header saw Carleton hold the lead for much of the first half before CLU gained their first at 20-18 with 8:02 left. A few minutes later, The Cal Lutheran began attacking the inside as CLU forward Rachel Heagy scored on three consecutive possessions to push the lead to 33-25 going into halftime.
Carleton would get on the board first in the second half with a three-pointer from Megan Chavez at the 19:10 mark. However, Cal Lutheran would stiffen its defense, holding the Knights without a basket for over six minutes until a three-pointer from Emma Purfeerst ended the drought as CLU lead 43-31.
The Regals would get their biggest lead of the afternoon after lay-up from Jazmyne Porter made it 49-31.
But the Knights didn't go away quietly, dwindling the lead down to eight at 63-55 with a little under two minutes left after three-point play by Michele Arima and a 15-foot jumper from Jenna Ramey.
Erica Whitley would come through in the clutch for CLU, nailing a three-pointer on the next possession to getting the Regals the lead back to 11 as Cal Lutheran would hold on in the last minute and prevail over the Knights.
Channing Fleischmann led all scorers with 17 points while Heagy had 16 and Whitley had 14 points and nine rebounds for Cal Lutheran.
Natalie Stone led Cal Lutheran with seven assists.
Carleton was led by Purefeerst who finished with 14 points and eight rebounds. Chavez and Ramey each finished with 12 points.
With the win, Cal Lutheran improved to 2-0 overall while Carleton falls to 0-1.
CLU is back in action tomorrow as they take on George Fox at 3:00 p.m. in Gilbert Arena. Carleton will play in the following game against Chapman, 30 minutes after the conclusion of the 3 o'clock game.
Box score: CLU 70 Carleton 58
Game 2:
Fans who stuck around for the night-cap were treated with a wild one as Chapman and George Fox played a back and forth game with Chapman upsetting the reigning Division III runner-up 56-46. Despite not scoring a single point for over a ten minute stretch, the Panthers hung tough and finally took the lead for good at 45-44 with 3:42 left in the second half after a steal and pair of free-throws from Emily McCoy.
Much of the game was marred by sloppy play as the two teams combined for 56 turnovers. Thanks to ten steals, including four from Sam McCloud, in the first half, George Fox muscled their way to 29-27 lead.
The Bruins would also control much of the second half, holding Chapman without a basket for over 10 minutes before Kimi Takaoka sunk a trio of free-throws with 7:21 remaining in the game, making the score 40-33.
George Fox was unable to come up with any points on the following two possessions and Takaoka capitalized as she banked in a three-pointer that pulled the Panthers to within one at 44-43.
On GFU's next possession McCoy came up with a steal along the Bruin's baseline and was immediately fouled. The senior then sank both free throws and the lead would hold as Chapman would hold George Fox to just a lone free-throw in the last three minutes of the game.
Chapman was led by Takaoka's 23 points and four steals. Sandra Gao chipped in with a double-double, finishing with 13 and 10 rebounds. McCoy was Chapman's only other scorer in double-figures, ending with 11 points.
George Fox's leading scorer was point guard Hayley Cusick, who finished with 10 points. Megan Hays ended with 11 and McKenzie Wolfe and Dacia Heckendorf each finished with six points.
With the win Chapman improves to 3-0 while George Fox falls to 0-2. Both teams will be back in action tomorrow as George Fox takes on host Cal Lutheran at 3:00 p.m. while Chapman takes on Carleton in the night-cap at 5:00 p.m.