Virgen, Regals Triumph Over Athenas
CLU defeats CMS 1-0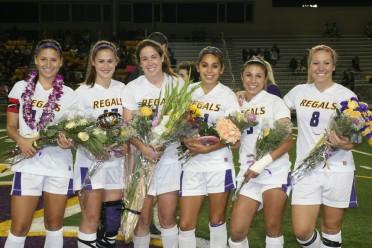 THOUSAND OAKS, Calif. – Playing her final regular-season home game, senior Mayra Virgen made it one to remember, scoring the game's only goal in the 83rd minute as No. 22 Cal Lutheran got past third-place Claremont-Mudd-Scripps 1-0 Saturday night.
The goal was remarkable in itself considering that less than five minutes earlier Virgen laid on the turf in agony after landing awkwardly following a shot. But Virgen showed her grit and waved off the trainers and remained in the game. Saturday night's goal marked Virgen's seventh goal of the season, tying a career-high.
The first half was a defensive struggle as CLU was unable to get any offensive rhythm. CMS earned three corner-kicks but Stephanie Gilbert led a CLU defense that held strong and kept a clean sheet going into half time.
The second half unfolded much like the Regals last game against Chapman on Wednesday, where they fired off 26 shots but were unable to come up with a goal, being upset by the Panthers.
CLU had 16 shots in the second half alone but CMS goalkeeper Molly Freed was outstanding, coming up with save after save.
Finally, in the 83rd minute, Taylor Will tried to collect a pass in the right corner of the box but was unable to. Luckily for CLU, the ball caromed right to Virgen, who took one dribble and fired a low-curving, cross-goal shot that found the back of net and gave the Regals the lead.
CLU's defense of Gilbert, Anna Medler, Kirsten DiPippo, and Mallory Carcich were able to shut the door on any further Athenas attacks and CLU escaped with the 1-0 win.
With the conclusion of Saturday night's game, the SCIAC Post Season Tournament participants are set. Cal Lutheran, the No. 1 seed will host No. 4 Pomona-Pitzer and No. 2 seeded Chapman, will host No. 3 CMS on Wednesday, Oct. 31 at 7:00 p.m.
Cal Lutheran also honored six seniors before Saturday night's game, including DiPippo, Virgen, Lindsay Armenta, Kristin Cameron, Dani Granholm and Nicole Rains.
Box Score: CLU 1 CMS 0