Offense Paces 62-38 Win Over Whittier
Kingsmen gain 638 yards to extend SCIAC streak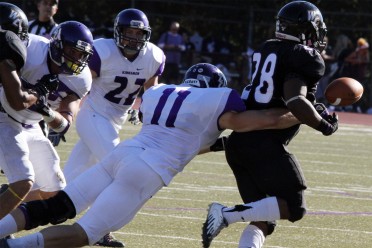 WHITTIER — It was a showdown of the top two offenses in the Southern California Intercollegiate Athletic Conference and it lived up to the billing.
Trading touchdowns and big plays, Cal Lutheran and Whittier compiled statistics that would make a defensive coordinator blush.
Eighth-ranked Cal Lutheran capitalized on several early turnovers to emerge with a 62-38 victory over Whittier on Saturday afternoon at Memorial Stadium and extend its SCIAC winning streak to 25 straight games.
Cal Lutheran (6-1, 5-0) and Whittier (3-4, 2-3) combined for 1,172 yards of total offense, including 834 through the air.
Three receivers eclipsed the 100-yard mark and CLU senior Eric Rogers nearly reached 200.
"Our defense did a nice job in the second half to get some stops and allow our offense to put its foot on the pedal to put us ahead," CLU head coach Ben McEnroe said. "It was timely defense. It wasn't great, but they have two great receivers who are going to make plays."
CLU senior quarterback Zach Shultis continually displayed his moxie throughout. Shultis weathered several hard hits and used improvisation to keep plays alive.
He completed 32 of 48 passes for 442 yards and five touchdowns. His favorite target was Rogers, who caught 12 passes for 183 yards and two touchdowns.
"We came in with a really good game plan and executed out there," Shultis said. "We knew what they were going to do and we even threw a couple of new things at them we had been practicing all week. The guys did a great job getting open downfield."
CLU was missing several key players to injuries, including running back Ryan Zirbel, wide receiver Frankie Jones and kick returner Vince Minor.
But the offense and special teams hardly missed a beat.
The Kingsmen turned turnovers into touchdowns in the first half to build an early lead.
CLU scored 28 points off turnovers, converting four takeaways into four quick touchdowns.
CLU freshman running back Romello Goodman rushed for three touchdowns in the first quarter, and Rogers had two touchdown catches in the second quarter as the Kingsmen held leads of 21-0 and 28-10.
But once Whittier kept possession of the ball, the Poets were able to burn the CLU defense for big plays to mount a comeback.
Whittier senior Kimble Tillman stretched for two long receptions to set up two touchdowns in the second quarter and narrow CLU's advantage to just 35-24 at halftime.
The CLU defense nearly gave up as many yards in the first half — 346 — as it usually does in an entire game.
CLU scored on its opening possession of the second half on a 24-yard touchdown catch by tight end Alex Moise for a 42-24 lead.
But Goodman fumbled on CLU's next possession, which led to a 1-yard touchdown run by Whittier's Anthony Walker. The big play of the drive was a 42-yard reception by Dameron Fooks down to the 1-yard line.
Shultis made a great play to create CLU's next touchdown. Shultis scrambled in the backfield to avoid being sacked and found Matt O'Brien for a 16-yard touchdown in the back of the end zone to give CLU a 49-31 lead in the third quarter.
Tillman struck again for Whittier on a 28-yard touchdown catch to pull the Poets to within 52-38 at the start of the fourth quarter.
But a 5-yard touchdown reception by Pablo Torres gave CLU a big enough cushion to keep Whittier's offense at bay.
Fooks caught eight passes for 160 yards while Tillman had six catches for 117 yards and two touchdowns for Whittier.
CLU finished with 638 yards of total offense.
The Kingsmen converted 10 of their 14 third-down opportunities and 9 of their 11 red-zone chances.
Goodman finished with 166 all-purpose yards and three touchdowns while Daniel Azhocar led CLU in rushing with 92 yards on eight carries.
"Our guys taking advantage of their turnovers was the difference in the game," said McEnroe, who celebrated his 42nd birthday. "It wasn't just their guys putting ball on the ground. It was our guys making a conscious effort to create turnovers by punching at the ball and stripping the ball. I am proud of them for that."