Sour Senior Day for Kingsmen
CLU falls to Redlands, USC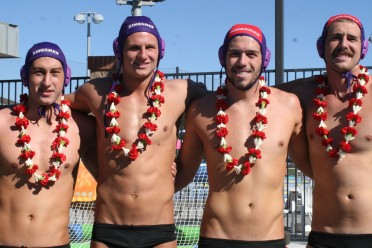 THOUSAND OAKS, Calif. – After honoring and thanking four senior players, Matt Baerg, Carter Baldwin, Danny Mock and Dejan Novakovic, for his contributions to the Cal Lutheran men's water polo program the Kingsmen fell 11-7 at the hands of Redlands in the final home game of 2012. They went on the road in the afternoon to take on Division I No. 1 USC, falling 21-9 to the Trojans.
In the morning at home the Bulldogs jumped out to a 5-2 first quarter lead and never looked back. Cal Lutheran threatened in the second, pulling the score to 7-5 at the intermission, but a scoreless third from the home squad left CLU too far back for a come-from-behind senior day thriller.
Cal Lutheran got two goals apiece from AJ Franklin and Max Zappas while Shea Craig, Hunter Hamaker and Spencer McGrath each netted one as well.
Mock made eight saves in his final start at the Samuelson Aquatics Center.
This afternoon, facing the No. 1 Trojans, Cal Lutheran was outscored 21-9 despite a valiant effort from the Violet and Gold against some of the top scholarship players in the nation.
USC took a 4-1 first quarter lead and opened a 9-1 advantage at the break. The Kingsmen would come back with five goals in the third, but allowed six in both the third and fourth quarters, adding just a trio in the final frame.
Novakovic scored a hat-trick while Hamaker netted a pair. Baldwin, Franklin, McGrath and Kyle Norheim each scored once as well.
Mock manned the cage for three and a half quarters, turning away five USC shots before giving way to Baerg who made two saves in the final 4:25 of action.
Cal Lutheran (12-13, 3-4 SCIAC) will be back on the road Wednesday, Oct. 31 when they travel to La Verne to close out the regular season at 4:00 p.m.