Yepez Ends Career with Goal in Finale
CLU places seventh in SCIAC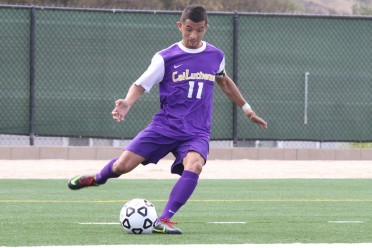 CLAREMONT, Calif. – The Cal Lutheran men's soccer team nearly tripled their win total from a year ago, but today in the season finale the Kingsmen were outdone by Claremont-Mudd-Scripps, falling by an 8-1 margin on the road to conclude their 2012 campaign.
The lone CLU goal came by way of senior striker Raul Yepez who scored in the 26th minute on a penalty kick. Cal Lutheran trailed 3-0 at the time and cut the deficit to two, but the Stags' Hogan Marhoefer would tack on three more in the opening half, adding a fourth goal of the night in the 69th minute.
CMS outshot CLU 37-7, earning eight corner kicks to three for the Kingsmen. Yepez was the only Cal Lutheran player to take more than one shot, finishing with two.
With a SCIAC record of 13-2-1 the Pomona-Pitzer Sagehens won the team title in 2012.
Cal Lutheran (8-12, 6-10 SCIAC) bids farewell to four seniors. The Kingsmen finished seventh.
Box Score: CMS 8, CLU 1