Oh So Sweet Three-Peat
Cal Lutheran captures its third straight conference championship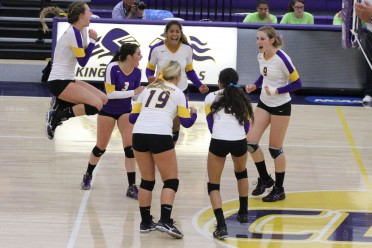 ORANGE, Calif. – As the old saying goes, "good things come in a set of three." Moreover, the rule of three is a classic writing narrative, with a beginning, middle and end. Cal Lutheran's season seems to be written in that same arch as they started as the reigning SCIAC champions, then were upset by Chapman in the middle season, falling to second place, but will end the regular season as the 2012 SCIAC champions after defeating CU 3-0 (25-18, 25-20, 28-26) Friday night. The regular season title is the third-straight SCIAC championship for Cal Lutheran. The last three-peat for CLU volleyball was 16 years ago when the Regals won the league from 1994-1996.
"It's been such a rollercoaster this year," said head coach Kellee Roesel. "These kids have faced so much adversity this year, probably more so than any other year, but they kept believing and working hard and I couldn't be prouder of this group."
Cal Lutheran has played its best volleyball since falling to Chapman September 29. Since then, CLU has won 11-straight matches and hasn't dropped a set in the last five.
With a big crowd on hand, CLU and Chapman battled to a deadlock at 12-12. Cal Lutheran would go ahead for good from there after three-straight kills from Lauren Rohach. Kylie McLogan ended the set with three kills down the stretch to give CLU the 1-0 lead, taking the set 25-18.
CLU would lead the whole way in the second set, racing out to a 12-4 lead. Chapman would make things interesting as they would win the next seven points to get within 12-11 but an Allie Eason kill ended the Panther scoring streak, putting CLU up 13-11. Shannon Pearson recorded two kills en route to extending the lead to 22-19. A McLogan service ace and two CU errors ended the second set, 25-20.
Cal Lutheran and Chapman treated fans to an exciting conclusion as the final set included 18 lead changes. After Chapman went up 22-21 on a CLU attacking error, the Regals regained the lead on a Panther ball handling error and a big combo block by Jenna Chavez and Pearson. The teams would continue to exchange points until it was tied at 25. Chapman would get to set-point after a kill but McLogan would come through in the clutch, smashing home two-straight kills to regain the lead for CLU. Chapman would suffer an attack error on the final point and the celebration was on as Cal Lutheran took the set 28-26, the match 3-0, and the SCIAC regular season title.
"We came in feeling good," McLogan said. "It was a good night for us. We just came in and executed our plan and it feels good to win this on the road and in three sets."
McLogan led Cal Lutheran with 18 kills and 10 digs. Rohach was second with eight kills and Pearson finished with six.
Chavez handed out 33 assists.
Defensively, Cal Lutheran was led by Eason and Rachel Smith, who each had 19 digs. Chavez finished with 11 digs and Kennedy Peters ended with nine.
"Our defense was so good tonight. Chapman has good hitters and is a complete team so to be able to take it in three sets says a lot about our defense," Roesel said.
Chapman was led by Ashleigh Gideon, who had 17 kills and Val Geiger, who finished with 12.
Asked about the ups and downs of the season, McLogan responded, "We've struggled with injuries, aches and pains, but our freshman and new girls stepped it up and kept this thing going."
"It was definitely hard along the way but I'm really proud of this team. This win feels great."
With the win Cal Lutheran improves to 23-4 overall and 14-1 in the SCIAC. Chapman falls to 21-5 and 13-2 in the SCIAC.
CLU concludes their regular-season tomorrow, Oct. 27, at Gilbert Arena with a double-header. Cal Lutheran takes on non-conference foe UC Santa Cruz at 1:00 p.m. before capping the regular season with Caltech at 6:00 p.m. Prior to the start of the Caltech game, Cal Lutheran will honor the senior class of 2013: Erika Smith, Shannon Pearson, Erin Hedrick, Lesley Smith, and Rachel Smith as part of Senior Day celebration.
Box Score: CLU 3 CU 0