Austin, Linemen Lead Way for CLU
Contributions to success not unnoticed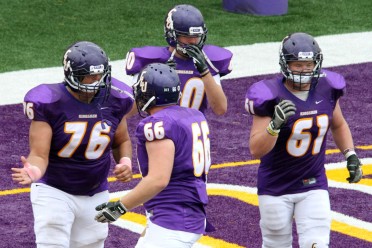 THOUSAND OAKS, Calif. – Jordan Austin can be forgiven for not celebrating after scoring a touchdown during last week's victory over Occidental.
It was an entirely new experience for Cal Lutheran's 320-pound senior left tackle.
The 1-yard run in the third quarter was Austin's first touchdown at any level of his football career.
"I couldn't believe it actually happened," Austin said. "I was kind of shocked. But then afterwards I just felt awesome. I was really filled with a lot of joy."
Austin's moment in the sun was a fitting reward for an offensive line that's been making big contributions for CLU this season.
The Kingsmen will rely on their group of 300-pounders to lead the way once again when No. 8 CLU (5-1, 4-0) plays at Whittier (3-3, 2-2) in a Southern California Intercollegiate Athletic Conference game on Saturday at 3 p.m.
"This is the best offensive line I've seen in my 22 years of being affiliated with CLU football either as a player, coach or alum," CLU head coach Ben McEnroe said. "We are about eight to nine players deep with big, talented guys who can play multiple positions."
The Kingsmen are thriving under the guidance of new offensive line coach Brian Smith, who returned to the county after spending the last four years coaching the offensive line and running backs at the University of Hawaii.
Tasked with protecting two first-year starting quarterbacks and paving the way for a freshman running back, CLU's linemen have delivered.
CLU is averaging 221.5 yards per game rushing and has allowed nine sacks this season.
"It really does makes us proud when those guys make big plays knowing they were able to do that because we made the right blocks," said Austin, a Bakersfield native. "I think the bond our line has is the biggest thing. We are a close-knit group and always talk to each other on and off the field. We work together really well."
Although Austin's contributions have been recognized internally, McEnroe believes they have been underappreciated outside the program.
"Jordan Austin is the best player in our conference, maybe in the West Region, to never get recognized for any all-conference accolades," McEnroe said. "He's been starting for us for four years as part of some great offenses, and nobody else in the SCIAC seems to appreciate what he does. That should change this season. He's been physically dominant and a lot more aggressive on the field."
Austin has noticed the snubs, yet figures it's par for the course for an offensive lineman.
"It motivates me, and every year I try to shoot for some goal like that. But I am not hurt about it," he said. "I am just out there to hit people in the mouth and have fun."
No. 8 Cal Lutheran (5-1, 4-0 SCIAC) at Whittier (3-3, 2-2)
WHEN/WHERE: Saturday, 3 p.m., Memorial Stadium
INTERNET: http://client.stretchinternet.com/client/whittier.portal#
LAST YEAR: CLU defeated Whittier 56-0.
SERIES HISTORY: CLU leads 22-4.
GAME FACTS: The SCIAC's top two offenses face off with Whittier averaging 521 yards per game and CLU 509.8. CLU is averaging 41.8 points and Whittier 36.8. Fr. QB Steven Rivera has started the last two games for Whittier. He is 57 of 110 for 856 yards. Sr. Dameron Forks, an Oklahoma State transfer, is averaging 96.8 receiving yards per game. CLU leads the SCIAC in scoring defense (19.7) and total defense (371.0). Whittier's defense allows 458.8 yards per game. CLU Sr. Eric Rogers leads the SCIAC in receiving yards per game (129). CLU QB Zach Shultis has been very impressive in his two starts. He leads the SCIAC in pass efficiency (210.6) and PAT kick percentage (25 for 25). CLU Fr. RB Romello Goodman is averaging 108.7 yards per game. CLU brings a 24-game SCIAC winning streak into Whittier's homecoming game. Whittier coach Todd Stratton was the offensive coordinator at Ventura College in 2010.