Panthers Spoil Senior Night for Kingsmen
CLU falls in home finale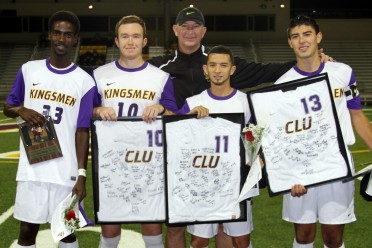 THOUSAND OAKS, Calif. – After recognizing four seniors as they donned the Violet and Gold for the final time at home tonight, Chapman spoiled the night for Cal Lutheran, defeating the Kingsmen 2-1 in SCIAC play at Rolland Stadium.
Fired up and ready to play, CLU and Chapman took the field.
It was the Panthers who put up a crooked number first when Duncan Capriotti scored from inside the box in the 14th minute of play.
In the 43rd minute of his final start at home, Raul Yepez fired off a shot that was saved, however the Kingsmen earned a corner kick. Tyler Pascoe lifted the ball into the box where Salvatore Baldi passed to Alex Wardle who headed the ball into the net to equalize the score at 1-1 with just under three minutes to play in the opening half.
Neither team would add to the tally in the opening frame. The visiting squad outshot the home team, seven to five, in the first half of a well-balanced game.
In the 67th minute CLU goalie Jack Duncan came out of the cage for a loose ball, which the Panthers controlled. Capriotti took his shot at a second goal, and while on target with no keeper in sight, Cal Lutheran defender Ivan Sanchez positioned himself in the middle of the net and headed the ball out of harm's way.
Unfortunately, the Panthers would strike two minutes later when Mauricio Alfonso converted a penalty kick, giving CU a 2-1 lead and ultimately the victory.
Danny Kuntz and Enrique Zaragoza each started his final game at home and Silas Wanje took the field in the second half during his final game.
Overall CU outshot CLU 26 to 18. Yepez took four shots with one on goal while Baldi, Kuntz, Wardle and Julian Hernandez each fired off a pair.
For Chapman, Alfonso led all players with eight shots, five on target, and Nich Echeverry took six with two on goal.
Cal Lutheran goalies combined for 10 saves with Duncan making nine and Miguel Silva coming in for the final 7:30, recording one.
Cal Lutheran (8-11, 6-9 SCIAC) closes out the 2012 season on the road Saturday, Oct. 27 when they travel to Claremont-Mudd-Scripps for a 1:00 p.m. kickoff.
Box Score: CU 2, CLU 1