Chapman Upsets Regals
CU snaps CLU's 10-game win streak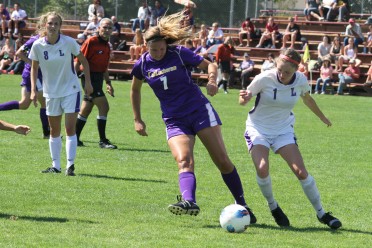 ORANGE, Calif. -- All streaks eventually come to an end and Cal Lutheran's streak of 24-straight conference wins was snapped Wednesday evening as the No. 22 Regals fell to Chapman 1-0.
The loss also meant CLU's current ten-game winning streak was undone in the process as the Regals fell to 16-3 overall and 12-1 in the SCIAC. Chapman improves to 14-5 overall and 8-5 in the SCIAC.
Chapman got on the board early after Val Sabol scored in the 11th minute.
Sophomore forward Taylor Will fired off 14 shots but none of them found the back of the net. The Regals would out-shoot the Panthers 26 to 10 but Chapman goalkeeper Melissa Fehrman came up with eight crucial saves.
The Regals were also unable to capitalize on any corner-kicks, where they earned ten while only conceding one to Chapman.
Chapman was able to fend off a flurry of Regal shots in the waning minutes and hold on for the win.
With only one game remaining in the regular season, the post-season seeding for the tournament is beginning to shape up. Cal Lutheran has already clinched the regular season championship and the one-seed regardless of the outcome of Saturday's game with Claremont-Mudd-Scripps.
CMS, currently second in the standings, can clinch second-place tonight with a win over Whittier since they hold the tie-breaker over Chapman.
After tonight's win Chapman has assured itself a post-season spot. Chapman can vault into second-place if CMS drops their next two games.
Pomona-Pitzer leap-frogged Redlands in the standings earlier this afternoon after they defeated the Bulldogs 1-0. The two teams have identical records but Pomona-Pitzer now holds the tie-breaker. A win against La Verne Saturday clinches the fourth-seed for the Sagehens.
Redlands would need to beat Whittier this Saturday and hope for a Pomona-Pitzer loss to get back into the playoff mix.
Cal Lutheran fans can catch the last regular season game for CLU women's soccer this Saturday Oct. 27, at 7:00 p.m. in Rolland Stadium. Prior to the start of the game, Cal Lutheran will honor its six seniors as a part of Senior Day recognition.
Box Score: CU 1 CLU 0