Regals Make Quick Work of Sagehens
CLU sweeps Pomona-Pitzer 3-0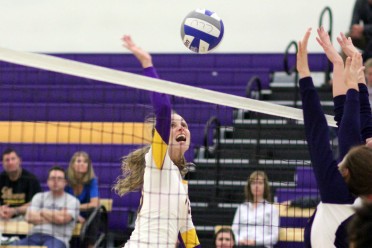 THOUSAND OAKS, Calif. – No. 8 Cal Lutheran made quick work of Pomona-Pitzer Tuesday night in SCIAC play as the Regals defeated the Sagehens 3-0 (25-16, 25-17, 25-15) in match that took just over an hour. Cal Lutheran had five players finish with hitting percentages over .300 while limiting Pomona-Pitzer to just .088.
Freshman Pua Mo'okini-Oliveria paced the Regals in the first set connecting for five kills on just six swings. CLU would gather a lead as large as 21-11 before Pomona-Pitzer would battle back winning four of the next six points. Allie Eason dispelled any signs of a late comeback, powering home the set-winning kill as CLU took game one, 25-16.
The Sagehens gave Cal Lutheran all they could handle in the early stages of the second set, taking a two-point lead at 8-6. A Hannah Orlandi kill and a Sagehens ball handling error would even up the score at 8-8. The teams would exchange the next four points to make it 10-10. However, Mo'okini and Lauren Rohach would trade off finishing kills as the duo would go on to take the next six points and push CLU out to a 16-10 lead. The Sagehens held tough, fighting back to make it 22-16 and 24-17, but an Eason kill would get CLU over the hump and secure the second set win 25-17.
Contrary to the beginning of the second set, Cal Lutheran raced out to an 11-2 lead in the third set thanks to three consecutive service aces by Shannon Pearson. The Regals benefited from four attacking errors by Pomona-Pitzer and senior Erin Hedrick, living up to her nickname as "The Closer," hit the set and game-winning kill as the Regals took the set 25-15 and the match 3-0.
Offensively, Eason had 17 kills and hit .300. Mo'okini-Oliveria had 10 kills and hit .500 while Rohach had seven kills and hit .312. Hedrick finished with four kills and a .375 average. Jena Chavez had three kills from her setter position and finished hitting at a .750 clip.
Rachel Smith dug out 12 balls from her libero position and Hayley Tamagni had a season-high nine digs.
Ellen Yamasaki led Pomona-Pitzer with 10 kills and eight digs.
With the win, Cal Lutheran improves to 17-4 overall and 8-1 in the SCIAC. With the loss, Pomona-Pitzer drops to 8-11 overall and 3-8 in the SCIAC.
The Regals will be back in action this Friday, Oct. 12, when they take on Occidental at 7:30 p.m. in Gilbert Arena.
Box Score: CLU 3, PP 0