Kingsmen Seventh at Oglethorpe Invite
CLU plays tough field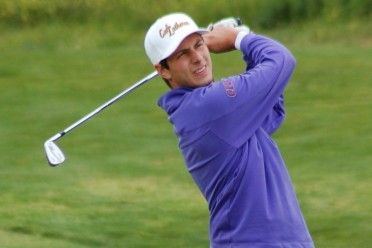 FLOWERY BRANCH, Ga. – The newly No. 1 ranked Cal Lutheran Kingsmen spent the last two days playing at the Oglethorpe Invitational outside of Atlanta, Ga. CLU dropped to seventh after opening the tournament third at Royal Lakes.
As a team the Kingsmen recorded 15 birdies and 117 pars at the two-day event. They combined for a 605.
Mikey McGinn was the top Cal Lutheran finisher, placing eighth in a field of 87. He posted a 72 on day one and came back with a 74 today, putting him four over par at 146.
Shooting a 152 with a 75 in the first round followed by a 77 in the second was Parker Colvin. Behind him was Bobby Griffin, who used one stroke more at 153 (76, 77) and Barret McGinnis rounded out the scoring players with a total of 154. He shot a 75 yesterday and came back today in 79.
Chad Kimmelshue produced a 76 in round one to score for the Kingsmen, but struggled with an 80 today.
Host Oglethorpe (582) won the title, by three strokes, over Methodist (585). Christopher Newport (597) rounded out the top three and was the only other school to shoot under 600.
Cal Lutheran golfers will be off the competitive course until after the New Year. The Kingsmen next tee off as a team on Monday, Feb. 4 at the CSU San Marcos Invitational, which will be played at the Shadowridge Golf Course in Vista, Calif. Tee times are set for 8:00 a.m.