Deep Bench Helps CLU Overcome Injuries
Regals continue to pace SCIAC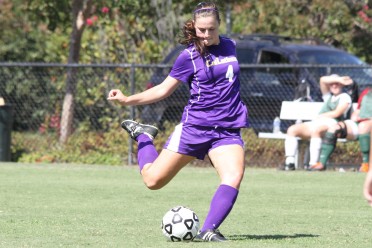 THOUSAND OAKS, Calif. – It was not the way Frank Marino wanted to test his team's depth.
The Cal Lutheran women's soccer coach would have preferred to see how his reserves performed in the final minutes of a blowout game.
But injuries have forced Marino to dip into his bench for crucial Southern California Intercollegiate Athletic Conference games, and the results have been promising.
The Regals (12-2, 8-0) haven't lost with any of their starters sidelined. They have a two-game lead at the top of the SCIAC standings with second-place Redlands (6-2-2, 5-2-1) visiting Wednesday night at 7.
"I have been really pleased with the players who have been called upon to step in. They have really come in and done the job," Marino said. "Our younger players have really improved and I think that has really helped us and raised the level of our team."
CLU recently suffered a rash of injuries with Kristin Cameron (knee), Kirsten DiPippo (concussion), Brittany Eremita (concussion), Nicole Rains (foot) and Carmen Wheeler (knee) sidelined at points.
"Our injury rate had been pretty good the last couple of years, but this is the largest amount of starters out we've ever had," Marino said. "But we are hanging in there, and I think what is most important is our chemistry is pretty good."
Taylor Will has helped pick up the slack by embarking on a scoring binge.
The sophomore striker has produced a SCIAC-leading 10 goals. Will registered a hat trick in Sunday's 3-0 victory over Austin College (Texas), with all three goals coming in the first half.
CLU's defense has been strong all season. The Regals have allowed only six goals in 14 games.
"If you can do that, you definitely give yourself a chance to win a lot of games," Marino said. "We had some expectations that we would be pretty good defensively and they have done a really solid job overall."
Resiliency has been a defining trait for Cal Lutheran this season, and overcoming injuries is just the latest example.
"This group has really rebounded from a couple of losses this year by playing well afterward," Marino said. "I think that says a lot about our team. We continue to gradually improve and I am hopeful we keep improving as we get toward the end."