Sagehens Sweep Kingsmen
Yepez scores, notches assist in loss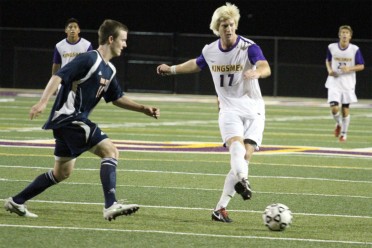 CLAREMONT, Calif. – Cal Lutheran men's soccer was on the short end of a seven goal game at Pomona-Pitzer this afternoon. The Kingsmen fell 5-2 at the hands of the Sagehens in SCIAC action.
PP scored early, netting a pair of goals in the first 10 minutes of play to give the Sagehens a lead off the top. Cal Lutheran would cut their deficit in half in the 28th minute, but unfortunately, 18 seconds later Pomona-Pitzer converted a penalty kick. The goal for the Sagehens served as the ultimate game winner as the home squad pushed their halftime lead to 3-1.
CLU got on the board when Raul Yepez sent a through ball to Lucas Kurzon at the top of the 18 where Kurzon tucked the shot under the sliding PP goalkeeper to put the Kingsmen on the board.
Despite nine saves, including six terrific diving stops, with a couple from point-blank range, for goalie Jack Duncan, the Sagehens found the back of the net twice more in the second stanza. Duncan gave way to junior Miguel Silva, who made his first appearance of 2012 with just over 10 minutes to play in regulation.
In the 82nd minute Yepez added a goal of his own to his earlier assist. The senior took advantage of a shanked clear by PP, poking the loose ball into the lower right corner of the net.
The teams combined for 27 shots with PP firing off 19 and CLU taking 18. Each team earned three corner kicks in the contest.
Pomona-Pitzer earned a 1-0 victory over the Kingsmen earlier this season.
Cal Lutheran (6-7-, 4-5 SCIAC) will play the middle game of a three game road trip on Wednesday, Oct. 10 when they travel to Redlands (6-4-3, 5-2-2) to play the Bulldogs at 7:00 p.m. There will be live video and live stats available.
Box Score: PP 5, CLU 2