USA Men's Water Polo Set for Stage at London Olympic Games
From Thousand Oaks to London, USA goal remains gold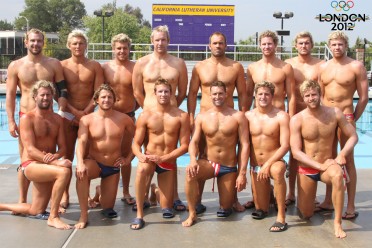 THOUSAND OAKS, Calif. – For the past six months the United States Men's Water Polo National Team has trained exclusively at Cal Lutheran in the Samuelson Aquatics Center and Forrest Fitness Center. Last Friday, that chapter came to a close as the team bid farewell to their new home. Today the team began their journey to London in a quest to bring home Olympic gold.
Following a Saturday sendoff in Camarillo, attended by more than 250 people, the team of 13 men and one alternate, along with coaches and support staff, took off for Texas today. They will travel on to England later in the week.
The final roster was announced in late June by head coach Terry Schroeder. It includes two four-time Olympians in Tony Azavedo and Ryan Bailey, marking the first male water polo players to be selected to compete in four Olympic Games. Of the remaining 11 men, nine were on the silver medal squad from Beijing.
Representing the US will be:
Attackers: Tony Azevedo (Long Beach), Shea Buckner (Villa Park), Peter Varellas (Moraga) and Adam Wright (Seal Beach)
Centers: Ryan Bailey (Long Beach), JW Krumpholz (Santa Ana) and John Mann (Newport Beach)
Defenders: Layne Beaubien (Coronado), Peter Hudnut (Encino), Tim Hutten (Seal Beach) and Jeff Powers (San Luis Obispo)
Utility: Jesse Smith (Coronado)
Goalkeepers: Chay Lapin (Long Beach) and Merrill Moses (Palos Verdes)
USA Water Polo hosted a Four Nation Tournament at the SAC back in March. Team USA defeated Italy (9-8) and Germany (12-10) and played Montenegro to an 8-8 draw.
Athletes will check into the Olympic Village before heading out on one more training trip to Croatia and Hungary prior to their opening game on July 29 against Montenegro. Other scheduled games are for July 31 (Romania), Aug. 2 (Great Britain) and Aug. 4 (Hungary). Quarterfinal play will begin on Aug. 8 while semifinals will be held Aug. 10 before the medal rounds on Aug. 12.
Opening Ceremonies of the Games of the XXX Olympiad are set for July 27.