Kingsmen Tie for Sixth at Tukwet Canyon
CLU plays SCIAC No. 5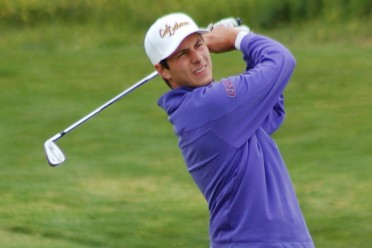 BEAUMONT, Calif. – Five days after playing at Oak Valley, the Cal Lutheran men's golf team returned to Beaumont to play at Tukwet Canyon in the SCIAC No. 5. The Kingsmen tied for sixth at the event.
Results: SCIAC No. 5
CLU was one stroke off a tie for fourth place, combining to shoot a 316 (+28) as a team, knotting them up with Claremont-Mudd-Scripps, one spot behind Whittier and Occidental who each finished in 315.
Casey Lum completed the course tied for 10th individually as he led the Kingsmen with a 77. Mikey McGinn was one swing back at 78. McGinn and Lum both had three birdies apiece and each shot 37 on the front and back nine, respectively. Barrett McGinnis posted an 80 as the third CLU score and Parker Colvin added an 81 for the final score.
Chad Kimmelshue, who pared 12 holes, also shot an 81 on the day and Matt Snyder (88) competed as well.
The top spot went to La Verne who came home in 294 as the only team to break the 300-stroke mark. Redlands was next in line at 307 followed by Chapman with a 310. Rounding out the field in eighth was Pomona-Pitzer (337).
Cal Lutheran will play at the SCIAC Championships on Sunday and Monday, April 22-23 at Diamond Valley in Hemet, Calif. hosted by Occidental. Teams will begin play at 7:00 a.m. on each day.