Handful Compete at Benny Brown Track & Field Invitational
Track and Field improve distances in non-conference action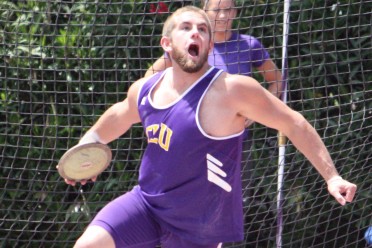 FULLERTON, Calif. - A number of Cal Lutheran track and field athletes from both the men's and women's teams traveled to the 2012 Benny Brown Invitational hosted by Cal State University Fullerton.

Results: Benny Brown Invitational

In a field of mostly Division I athletes, a groupf of CLU women competed in numerous field events today.

Jackie de la Paz tied for 16th in the shot put with a mark of 10.96m and was followed closely by teammate Brianna Panapa who recorded a distance of 10.86m. de la Paz was seventh in the discus with a throw of 38.94m. Panapa and Tori Dahl tossed the discus 33.73m and 31.34m, respectively. Britlyn Garrett placed 11th in the javelin with a long throw of 32.39m.

On the men's side, Eric Rogers long jumped his way to a 10th place finish with a mark of 6.68m. Dennis Clay and Deme'Trek Chambers placed 21st and 22nd, respectively with leaps of 6.11m and 6.06m.

Andrew Gessler threw the shot put 12.44m. Adam Hayes tossed the discus 47.89m for a fourth place finish behind three unattached athletes. Justin Puccinello threw the javelin49.28m for an eighth place finish and Scott Case launched the javelin 40.99m.

Members of the men's and women's Track & Field teams will both compete next weekend at the two-day Northridge Invitational on Friday and Saturday, March 16-17 with some athletes also traveling to the Oxy Distance Carnival on Friday evening.