Women's Tennis Season Outlook
Trio of seniors head 2012 squad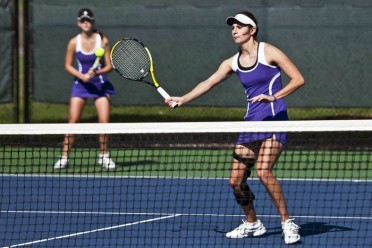 THOUSAND OAKS, Calif. - Cal Lutheran women's tennis is looking to break through this season with its trio of seniors leading the squad. With the return of Head Coach Vanessa McPadden, the Regals are already off to a solid start to this year's campaign.

Seniors Kim Kolibas, Holly Beaman and Jordan Leckness started off the season as the top three singles players in the Cal Lutheran lineup. This group has spent all four years together at Cal Lutheran, and combined for 95 singles wins and in their three-plus years of collegiate action.

Kolibas earned All-SCIAC Second Team honors last season, while Beaman and Leckness were second team picks in 2010. In her freshman campaign Leckness received an All-SCIAC First Team selection.

Sophomore Lindsay Murphy, along with juniors Carly Mouzes and Lauren Toohey round out a solid returning cast of talent and experience. Murphy led the Regals with 12 singles wins and 21 victories overall in her inaugural collegiate season. Mouzes and Toohey collected nine singles wins each and teamed up to go 7-4 in doubles action last season.

The impact freshman thus far this season is Sarah Baker. She won her first three singles matches and is a combined 7-1 in singles and doubles play this season.

Baker leads an incoming class of five which includes Kari Ayres (Tacoma, Wash./Annie Wright HS), Katie Carroll (Yakima, Wash./La Salle HS), Eleanor LaBarbera (Union City, Calif./Moreau Catholic HS), and Jacqueline Ramsay (Plano, Tex./Carlsbad HS). Rounding out the 2012 Regals roster are sophomores Danica Engstrom and Stephanie Portillo.

Cal Lutheran (3-1) won its first three matches of the season before falling to No. 18 Chapman by a 5-4 margin on Friday, Feb. 10. The Regals open conference play on Saturday, Feb. 18, at home against Caltech. CLU will host its first 12 matches of the regular season, as well as the SCIAC Championships which take place May 4-5.