CLU Extends Win Streak to 13 Matches
Regals win three straight sets to complete season sweep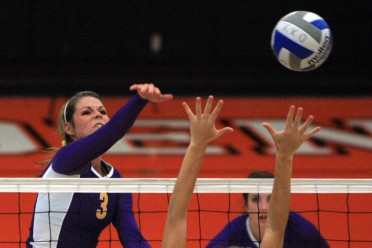 THOUSAND OAKS, Calif. - After dropping the first set 19-25 to La Verne, No. 14 Cal Lutheran rallied to win the next three sets 25-21, 25-19, and 25-16 Tuesday night to earn its third straight regular-season sweep over the Leopards.

Box Score: CLU 3, ULV 1 - F

The Regals now possess a 13-match win streak, a string of victories that initially began with their 3-1 triumph over Occidental on September 20.

Three Regals finished with double-digit kills totals; led by outside hitter Kylie McLogan with 14, right side Casy McWhirk and middle blocker Shannon Pearson each recorded 11 kills apiece.
McLogan also finished with 11 of the team's 62 digs to earn her team-high eighth double-double of the season.
Entering Gilbert Arena with five consecutive straight-set victories, CLU dropped its first set in two weeks after La Verne took the opening set by a score of 25-19.

Cal Lutheran rebounded in the following set by jumping out to an early 5-1 lead, creating an advantage that would not disappear throughout the remainder of the second set to tie the match at one apiece.

That pattern would repeat itself throughout the rest of the match as the Regals were able to create and preserve early leads in both the third and fourth sets to complete their come-from-behind effort and defeat La Verne for the seventh time in a row.

Finishing with a .316 hitting percentage in the first set, La Verne was unable to replicate that offensive outburst throughout the rest of the evening as Cal Lutheran forced the Leopards to commit 19 attack errors throughout the final three sets.

Conversely, Cal Lutheran was able to shake off its slow start and began to assert itself on offense from the start of the second set throughout the remainder of the match.

Recording a .163 hitting percentage in the opening set, the Regals became a more efficient unit on offense throughout the final three sets, ending with a fourth-set performance that contained zero attack errors and a .522 hitting percentage.

Cal Lutheran (20-4, 9-0 SCIAC) will return to action at Occidental (14-7, 7-2 SCIAC) this Friday, Oct. 21 in a 7:30 p.m. match featuring the SCIAC's top two teams.