Kahovec Joining Ostrander at Nationals
Story Courtesy of Rhiannon Potkey (VC Star)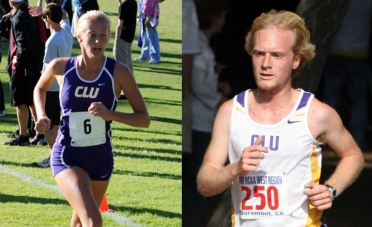 Ray Ostrander won't be flying solo to nationals this year. The Cal Lutheran senior will have a long-distance companion by his side at the NCAA Division III Cross Country Championship meet on Saturday in Waverly, Iowa. CLU junior Toccoa Kahovec will be competing in the event for the first time in her career.

The CLU runners earned their spots over the weekend at the NCAA West Regional.

Kahovec, a Saugus native, finished ninth overall in the women's 6-kilometer race in a time of 22 minutes, 40.83 seconds.

Ostrander, a Wisconsin native, finished 11th in the men's 8K race in 25:55.43 to become the first CLU runner to reach nationals twice in a career.

"I am excited to have Toccoa come along," Ostrander said. "It's always fun to have more people to share the experience and the atmosphere with out there. For that weekend, everything that is happening has to do with cross country and it will be nice to have someone along to talk to about all that stuff."

Kahovec is grateful to have a seasoned veteran available to help in her acclimation.

"I am so happy that Ray is going. He has been there before, so he can kind of guide me and show me what to do," she said. "It will be fun to have someone to run with while we are there."

Kahovec nearly reached nationals last year, but just missed qualifying with an 18th-place finish at regionals.

"I feel like I have been in the greatest shape of my life this year. I have been training really hard all summer and all throughout the fall and have been doing good," she said. "I feel like I have gotten progressively faster in college, but this is definitely the fastest I have been."

Although Ostrander enjoys interacting with his fellow runners, the socialization usually ends in the hours before a big race like Saturday.

"When I am nervous, I clam up and don't talk to anybody," he said. "I have been known to just unintentionally ignore people a few feet away from me because I am in a zone."

Last season, Ostrander became the third CLU men's cross country runner to ever race in the NCAA Championship meet and the first in 13 years. He finished 144th overall.

"I am hoping I place a lot higher this time," he said. "I really wasn't ready for the course and it was extremely muddy and slow paced. I hope to be in the top 100 this time and go for All-American."