Mount Clef Stadium Send off Saturday Against Occidental
Football to play last game at only home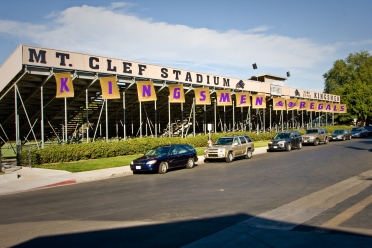 THOUSAND OAKS, Calif. - For the 234th, and final time on Saturday afternoon the Cal Lutheran football team will play on the grass of Mount Clef Stadium in front of its home crowd. CLU will host Occidental on Saturday, Nov. 13 at 1 p.m. in its regular season finale and a chance to earn back-to-back outright conference titles.

Live Broadcast: OXY-CLU Football (Nov. 13)

With the construction of William Rolland Stadium scheduled to be completed in time for the 2011 campaign, Cal Lutheran will play its home games on the other side of Olsen Road after competing on its one and only home for 49 seasons.

CLU football (then CLC) has called the stadium home since its inaugural season in 1962, winning the first contest at Mount Clef by a 20-12 margin over Los Angeles Pacific. That year the Kingsmen went 3-0 in the city of Thousand Oaks with two other victories over Pomona-Pitzer and Caltech.

This year's squad is looking to send off the stadium in a similar fashion to how it was welcomed with the Kingsmen having won its four prior home games this season. Following a season-opening 47-42 win over then No. 4 Linfield (OR), CLU has won its last three home contests by 21 points or more.

Occidental has lost three straight coming into today's game including a 33-17 loss to Claremont-Mudd-Scripps on Nov. 6 which granted Cal Lutheran entry into the NCAA Tournament. The prior two weeks the Tigers lost to Chapman 28-24 and Redlands 51-7.