Cal Lutheran Women's Water Polo All-Decade Team Announced
Next Up; Kingsmen Golf (Thursday, Aug. 12)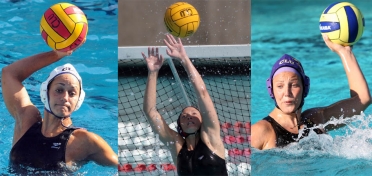 THOUSAND OAKS, Calif. - Despite only seven years of existence the Regals water polo team could put together a starting lineup that would consist of six First Team All-Americans including one SCIAC and NCAA Player of the Year. Cal Lutheran won its first ever SCIAC title in 2009 only six years after the inception of the program.

In addition the Regals posted a pair of 21-win seasons in 2007 and 2010 which ended with Collegiate III Championship titles to their name. Cal Lutheran has finished third or better in the SCIAC standings each of the past four years. In the process CLU has posted a 25-3 conference record since 2008, which includes a perfect 10-0 record in 2009 en route to its first-ever NCAA National Championship appearance.

GOALKEEPER
Katie Windsor (2005-08)
A two-time Collegiate Water Polo Association (CWPA) All-American and All-SCIAC First Team selection in 2008. Windsor is the only net minder in Regals history to record multiple 200-plus save seasons. After setting the program record as a junior with 252, she raised the mark again as a senior with 277 stops in 2008. Windsor's 756 career saves are more than the next two highest marks combined.

TWO-METER OFFENSE
Joy Cyprian (2007-10)
A three-time CWPA All-American pick and All-SCIAC First Team selection she is the program's all-time leader with 223 goals and 143 assists. Of those tallies the program's most pivotal goal was Cyprian's game-winner clinching the school's first-ever conference title and trip to the NCAA National Championships in 2009. The four-year Regal also ranks third in drawn exclusions (168) and seventh in steals (124).

Danielle Rios (2004-05)
The earliest player to receive recognition on this team, her career scoring mark of 116 goals ranks fifth on the all-time list. In 2004 and only the second year of the program's existence Rios netted 63 goals, a mark that stood up through 2009. She added 53 more scores in 2005 and is one of only three players with multiple 50-plus goal seasons.

TWO-METER DEFENDERS
Jill Jensen (2005-2008)
A two-time CWPA All-American, Jensen earned first team honors and along with All-Decade teammate Nicole Pecel were the first two to earn such recognition. As the primary defensive stopper she led the team in steals each of her four seasons all ranking in the program top-10 including a then-record 91 in 2007. The current Regals record holder with 288 steals, she also ranks fourth with 93 assists and eighth with 65 drawn exclusions.

Bobby Sanders (2008-present)
As the heir apparent to Jensen following her graduation, Sanders is also a two-time CWPA All-American with one year still to play. In 2009 she earned first team honors and as the current primary defender bested the steals record snatching 93 that season. Sanders program ranks include eighth in goals (63), fifth in steals (68), fourth in drawn exclusions (86) and second in steals (182).

DRIVERS
Ashley Bentz (2007-09)
In her third and final year with the Regals she earned a spot on the CWPA All-America Second Team and All-SCIAC First Team. That season she scored 48 goals and recorded a career-high 69 steals and 25 assists. Despite graduating a year early Bentz ranks fourth on the all-time list netting 133 goals. She also stands sixth in steals (130), eighth in assists (56) and 10th in drawn exclusions (44).

Stevie Blanchard (2005-08)
The four-year Regal ranks on the program's all-time top-10 list in all four major field player categories. Blanchard was the first to reach 100 assists and ranks third all-time with 101 for her career. Her career-high of 40 in 2007 led the team and held as the school record for two years. She also stands fifth in steals (131), sixth in drawn exclusions (71) and 10th in goals (57).

Meredith Butte (2008-10)
The only player in CLU history to earn CWPA First Team All-American honors three times, be named Division III Player of the Year and SCIAC Player of the Year. Despite transferring to Cal Lutheran as a sophomore she ranks second all-time in goals (213), assists (109) and drawn exclusions (189). Butte also earned Collegiate III Championships Tournament MVP twice and was named to the NCAA National Championship All-Tournament Second Team.

Marianne Paradowski (2007-08)
The two-year Regal earned All-SCIAC Second Team honors after leading the 2007 squad with 59 goals and ranked second with 54 steals. Paradowski's 88 career scores rank seventh all-time and her first-year seasonal marks at CLU in goals and steals rank seventh and ninth all-time, respectively.

UTILITY
Nicole Pecel (2005-07)
In her second year she earned CWPA All-America and All-SCIAC Second Team honors before taking first team honors in both in 2007. At the end of that season Pecel was the all-time scoring leader with 144 which now ranks third in program history. She scored three goals in the 2007 Collegiate III Championship title game victory as CLU captured its first ever crown. Pecel was also featured in Sports Illustrated's "Faces in the Crowd" which features amateur athletes and their successes.