Gray Concludes Cal Lutheran Career with All-America Nod
Senior earns one final athletic CLU honor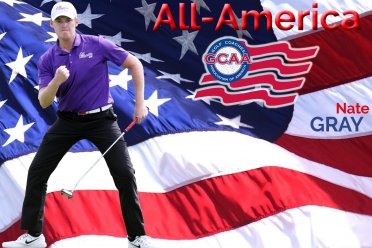 NORMAN, Okla. – Announced late last week by the Golf Coaches Association of America (GCAA), 2017 Cal Lutheran graduate Nate Gray earned Division III PING Honorable Mention All-America to haul in one final honor for the Kingsmen.
Gray garnered DIII PING All-West Region recognition in late May and became one of 22 Honorable Mention golfers at the Division III level this spring. Southern California Intercollegiate Athletic Conference (SCIAC) opponents Conor Rooney (Pomona-Pitzer), Jonathan Shaw (Claremont-Mudd-Scripps), Matt Shuman (Claremont-Mudd-Scripps) and Alec Spencer (La Verne) all join Gray as HM performers.
The First Team All-America featured the top nine golfers from across the country while the Second and Third Teams each landed eight selections apiece.
Gray rounds out his collegiate career with his first All-America award to become just the seventh golfer to earn national recognition for the Violet and Gold.
He shot an average of 74.39 during his 23 rounds of action this season and earned a share of the 2017 individual SCIAC title, marking the first Kingsmen golfer to earn that status.
In addition to his most recent honor, Gray is also a two-time PING All-West Region selection and a two-time Second Team All-SCIAC honoree.
Release: All-America
CLU Instagram: http://instagram.com/clusports#
M Golf Instagram: http://instagram.com/clu_golf/
CLU Twitter: https://twitter.com/clusports
M Golf Twitter: https://twitter.com/CLUGolf
CLU Facebook: https://www.facebook.com/clusports
Hashtags: #clusports #ownthethrone #gokingsmen