Pirates Steal Thriller Over Regals
CLU falls to Whitworth 5-4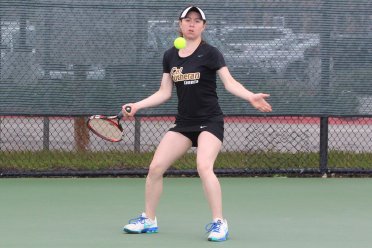 THOUSAND OAKS, Calif. – In non-conference action on Wednesday night, a match between the Cal Lutheran women's tennis team and visiting Whitworth came down to the wire with the Pirates emerging as the victors in a 5-4 final at Poulson Tennis Center.
A match that lasted more than four hours started with Whitworth taking two out of three doubles matches for an early 2-1 lead. Emily Werman and Christie Kurdys came through for the Regals with the lone doubles win at No. 2, 8-4. Shelby Kubota and Annette Sousa fell in a tight 8-6 game at No. 3 while Nicole Neumann and Sarah Seeman battled to an 8-3 defeat at No. 1.
Needing strong singles play to have a chance, the Regals grabbed three wins to put themselves in a 4-4 deadlock with the Pirates. Kurdys cruised to a 6-3, 6-3 win over her opponent at No. 1 while Werman picked up a 6-2, 6-2 win at No. 2 and Seeman won 6-1, 6-1 at No. 3.
The match came down to No. 6 singles, where an epic battle between Neumann and Paige Rohrbach ensued. After Neumann rallied from an early deficit to win the first set 7-5, Rohrbach roared back to force a tiebreaker in the second set. After edging Neumann 7-6 (3), Rohrbach carried the momentum into a full third set and won 6-3 to give the Pirates the match victory.
Cal Lutheran (3-8) continues non-conference play with a match against Wellesley (Mass.) this Friday, Mar. 31 at 3:00 p.m. at Poulson Tennis Center.
Box Score: WHTW 5, CLU 4
CLU Instagram: http://instagram.com/clusports#
W Tennis Instagram: http://instagram.com/regals_tennis/
CLU Twitter: https://twitter.com/clusports
W Tennis Twitter: https://twitter.com/CLUwTennis
CLU Facebook: https://www.facebook.com/clusports