Kingsmen Power Past Pirates
CLU takes all but one from Pirates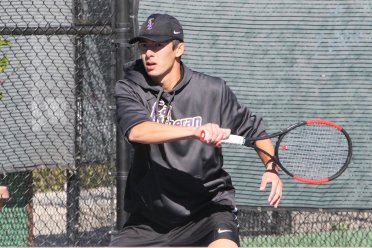 THOUSAND OAKS, Calif. – Taking the courts for the first time since a spring break trip to Hawaii, the Cal Lutheran men's tennis team had a near sweep of the Whitworth (Wash.) Pirates, winning 8-1 at the Poulson Tennis Center on Wednesday afternoon.
Competition began with a sweep of the doubles matches for the Kingsmen. At No. 1, Dara Kashani and Jake Haffner earned the first point with an 8-3 win. Playing for the first time as a pair, Lucas Tilly and Austin Wong earned a hard-fought 9-7 win in a tight match at No. 2. Rounding out the doubles sweep was the pair of Andrew Tufenkian and Joshua Legardy in an 8-6 decision.
Moving onto singles action, Wong led the way on court No. 5, almost working for a double bagel for the Violet and Gold, winning 6-1, 6-0. No. 4 finished next with Mike Sulahian defeating his opponent 6-4, 6-1 to grab the second point of singles match play for CLU. Sebastian Ariza and Tilly won their matches 6-2, 6-1 and 6-2, 6-3, respectively. Haffner on No. 3 was able to snag the last point of the day for the Kingsmen winning in tiebreak 6-4, 7-6 (8).
Cal Lutheran (4-12) rounds out non-conference play tomorrow, Mar. 30, at 2:00 p.m. against DePauw (Ind.) at the Poulson Tennis Center.
Box Score: CLU 8, WHTW 1
CLU Instagram: http://instagram.com/clusports#
M Tennis Instagram: http://instagram.com/kingsmen_tennis/
CLU Twitter: https://twitter.com/clusports
M Tennis Twitter: https://twitter.com/CLUmTennis
CLU Facebook: https://www.facebook.com/clusports
Hashtags: #clusports #ownthethrone #gokingsmen #d3t #theSCIAC