No. 8 Bruins Upend Regals with Late Rally
CLU nearly upsets George Fox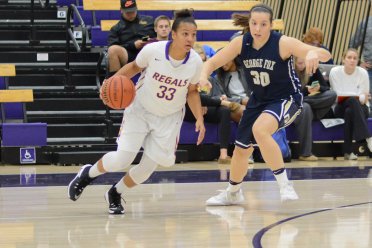 THOUSAND OAKS, Calif. – On Monday evening the Cal Lutheran women's basketball team faced off with No. 8 George Fox in a non-conference contest inside Gilbert Arena, narrowly falling to the Bruins, 62-57.

Both teams came out with high defensive pressure, creating a fast paced matchup. The Regals jumped to the early 10-4 lead behind baskets from Grace Derksen, Tatiana Dunlap, and Sofia Cruz. Cal Lutheran would hold the lead through the remainder of the first frame to head into the break, up 22-14. Cruz tallied five rebounds in the first quarter and finished with a team-high eight.

The Regals opened up the scoring in the second quarter on a layup from Janelle Porter and stretched the lead to 28-17 with 5:50 left to play in the half when Jessica Salottolo found Haley Hodgson in the middle of the lane for the open layup. George Fox continued to pressure and battled to bring the score to 26-30 with just over a minute to go, but Salottolo hit the open jumper to put CLU ahead 32-26 at the half.

The third quarter was well contested from both sides. The Bruins brought things to within one with three minutes remaining, but the Regals maintained the lead, heading into the final frame up 44-41.
The fourth quarter proved to be the difference, the Bruins garnered the lead with 4:40 left to play and jumped to a 17-2 run to extend their lead to 59-51 with just under a minute remaining. The Regals regained some momentum when Derksen hit a jumper from beyond the arc to bring things back to 54-59. Porter also hit a three-pointer shortly after, but the Bruins sank crucial free-throws in the closing moments. George Fox outscored Cal Lutheran 21-13 in the final frame to claim the 62-57 victory.
Porter led the Regals with 14 points, while Derksen finished with 13 points and four rebounds. Salottolo finished with five steals for the Violet and Gold.

Kaitlin Jamieson finished with 10 rebounds and led all players with 19 points.
Cal Lutheran (1-3) will travel to Westmont to take on the Warriors in a non-conference matchup on Thursday, Dec. 1 at 5:30 p.m.
Box Score: GFU 62, CLU 57
CLU Instagram: http://instagram.com/clusports#
CLU Twitter: https://twitter.com/clusports
CLU Facebook: https://www.facebook.com/clusports