Regals Open Season with Win
12 different players score for CLU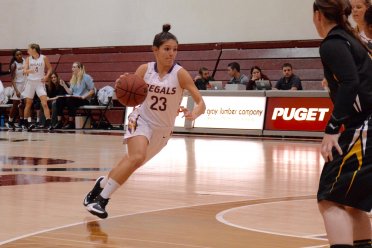 TACOMA, Wash. – The Cal Lutheran women's basketball team opened up their season on Friday, defeating Pacific Lutheran 78-52 in a non-conference contest in the Doug McArthur Classic hosted by Puget Sound in Tacoma, Wash.
The Regals came out strong, taking the early lead and stretching it to a commanding 18-0 run with one minute remaining in the first quarter. Janelle Porter started things off with a deep three-pointer and Grace Derksen followed by scoring the next five points for CLU.
Pacific Lutheran would fight to score four, behind shots from Kaelyn Voss and Samantha Kelleigh before time expired to take things into the second quarter with Cal Lutheran up 18-4.
Makenna Murray opened up the scoring in the second after sinking a three-pointer off of the assist from Jessica Salottolo. The Lutes battled to bring things back to 26-15, but CLU continued to capitalize on offense and headed into halftime, up 33-20.
Haley Hodgson started off the scoring with a layup just six seconds into the second half off of the assist from Kiana Gray. Cal Lutheran jumped to the 43-24 lead on a 3-pointer from Porter off of a perfectly timed pass from Derksen. Tatiana Dunlap led the Violet and Gold with eight points in the third quarter, and also notched two offensive rebounds in the frame.
After outscoring the Lutes 24-14, CLU went into the final quarter up 57-34.
The fourth frame was well fought by both teams but CLU outscored Pacific Lutheran 21-18 to seal the 78-52 win. Sofia Cruz was 2-2 from the field in the closing quarter to finish with 11 points and two assists.
Porter led the Regals with 17 points, shooting 5-5 from three-point range and adding two free-throws. Dunlap nearly finished with a double-double, scoring 16 and tacking on nine rebounds. The junior forward also added a steal and shot 5-6 from the free-throw line
Jasmine Bernardo, Natalie Ruhl, Zoe Tinsley and Murray each made their debut for the Violet and Gold on Friday.
Cal Lutheran shot 11-26 from beyond the arc and 72 percent from the free-throw line.

Depth was a key factor for the Regals, 12 different players scored and the team finished with 32 points off the bench while only allowing 12. Cal Lutheran also capitalized off of offensive rebounds, scoring 13 second-chance points.
Cal Lutheran (1-0) will return to the campus of Puget Sound to take on the Loggers at 6:00 p.m. on Saturday, Nov. 19.
Box Score: CLU 78, PLU 52
CLU Instagram: http://instagram.com/clusports#
CLU Twitter: https://twitter.com/clusports
CLU Facebook: https://www.facebook.com/clusports