Meet the SAAC Feature: Courtney Sooy
Sooy placed in areas to succeed; strives, leads by example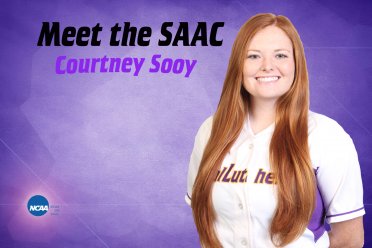 After finishing her four year varsity career at Chaminade High School, Northridge native Courtney Sooy was left with a college decision and California Lutheran University was always a part of the conversation.
"I have known Coach [Debby] Day since I was 13," Sooy shared, "She didn't teach me how to pitch, but changed to how I pitch now. CLU has always been relevant, as somewhere I could go."
There were two DII schools that were interested in her, but her visit to a Michigan school was too far and too hard to get to and the school in Washington didn't have the right feel. It was a surprise, even to coach Day, that Sooy was coming to Southern California to play, but it was the clearest choice she saw. Once at Cal Lutheran she became a leader who rose to the occasion in the pitching circle and off the field.
She had an excellent season as a utility player, pitching the most complete games last year in the SCIAC with 20 and finishing in the CLU record books in four different categories, including the second most appearances in a single-season (31) and fourth in innings pitched in a single-season (165.2). She also contributed with her bat, hitting at a .287 clip with 13 runs scored and 10 RBIs.
"I always pitched a lot on the teams I have been on and last year I pitched a ton," Sooy said. "Pitching as much as I did molded me and made me into a leader for this team; I pitched in almost every single game."
Sooy has emerged as a leader on the team and describes her style as being different than those she has seen in the past.
"Leadership is a confusing thing. People think that they need to be a leader, 'I need to be authoritative or I need to be in charge or this and that,' but you don't need to do that to be a leader," she went on, "You can choose your own style and then people will follow you and listen to what you are saying if you are doing it correctly."
She relates it to handwriting. People write in many fonts. If you are messy no one will follow, but if you are neat then everyone can see it.
Leading by example, she has become a multi-faceted threat in the SCIAC and a helping hand off the field. Her addition to the SAAC was by accident, as Coach Day grabbed her right before a meeting and made her a member on the spot, but the opportunity has flourished for her.
"I'm that kind of person, the one who's going to take it and run with it because I can," she shared. Sooy now leads a committee that is in charge of organizing the group's involvement with the Special Olympics, a partner of Division III.
An avid reader, she intends to work in journalism and be a sports writer. Her first step is to become the editor of the ECHO in the upcoming years. Without a doubt, if she was thrown into the role by accident she would probably do what she does best; lead by example.
Sooy is grateful for the experience Cal Lutheran is giving her. By working with professors who have worked in the field and still have connections to it, she is able to learn relevant information and have great relationships with her teachers. Cal Lutheran is allowing her to follow her passions and do it with such an intimate experience she is able to recognize her purpose.
Fun things to know about Courtney:
Favorite Ice Cream flavor: Cake Batter
Prettiest place on campus: On the softball or baseball field, at sunset (or early in the morning staring at the mountains)
Apple or PC: Apple
Who would play you in a movie: Emma Stone (Easy A version)
Favorite CLU memory: Last year, in playoffs, loss first game. Won on a walk off triple when she was on third to make it to "championship Saturday"
CLU SAAC: http://www.clusports.com/pages/saac.php
CLU Softball: http://www.clusports.com/softball/
CLU Instagram: http://instagram.com/clusports#
CLU Twitter: https://twitter.com/clusports
CLU Facebook: https://www.facebook.com/clusports