Kingsmen Post First Win of Fall
Men's soccer undefeated on opening weekend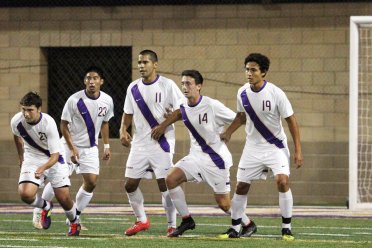 THOUSAND OAKS, Calif. – Day two of the 2014 Kingsmen Kickoff Classic featured sister schools in host Cal Lutheran and Pacific Lutheran from Washington state. The battle between the Kingsmen and Lutes went to the home team by a 1-0 margin.
A physical battle that saw 15 combined first half fouls and 37 total with five cards issued was a well-matched one. Pacific Lutheran held an edge in shots (7-6) and shots on goal (3-2) in the opening period, but Cal Lutheran earned the lone corner kick of the half and in the 7th minute the Kingsmen put up the only crooked number of the game.
For the first time in his CLU career Zack Larson found the back of the net. Gabriel Fernando took the ball down the right sideline and chipped it into Larson who waited in front of the net to finish off the play, giving the Violet and Gold a 1-0 advantage.
After the intermission the teams continued to clash. The Cal Lutheran defensive unit of Logan Cone, Julian Hernandez, Alex Wardle and Tal Zaiet joined forced with goalkeeper Jack Duncan for their first shutout of the season. Duncan turned away all three shots that came his way.
Overall, CLU outshot PLU 13-10 with Larson taking six for the Kingsmen. Pedro Zaccarelli was the only other Cal Lutheran player with multiple attempts, firing off a pair. PLU was paced by Eddie Na with two shots while eight other players had one apiece. Lutes goalie Mike Arguello recorded two saves tonight.
Tonight marked the CLU debut for both Ryan Barber and Jacob McMillan.
At the other Kingsmen Kickoff Classic game tonight Redlands defeated Puget Sound 2-1.
Cal Lutheran (1-0-1) will be back in action on Tuesday, Sept. 2 against UC Santa Cruz in the final non-conference game of the year. Teams will kick off at 7:30 p.m. under the lights at William Rolland Stadium.
Box Score: CLU 1, PLU 0
Tournament Website: Kingsmen Kickoff Classic
CLU Twitter: https://twitter.com/clusports
Follow Tal: @KingsmenSoccer1
CLU Facebook: https://www.facebook.com/clusports
Follow Coach Kuntz: https://www.facebook.com/soccermn
CLU Instagram: http://instagram.com/clusports#