Regals Rally Past Quartet at Pacific Coast Classic to Open Season 4-0
Volleyball opens season unbeaten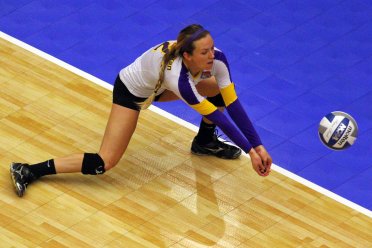 THOUSAND OAKS, Calif. – The first weekend of competition in 2014 for the Cal Lutheran volleyball team spanned two days with four matches at the Pacific Coast Classic in which the Regals won all but one game while going 4-0.
On Friday morning at La Verne, the season got underway with a 3-0 sweep of Wheaton (Ill.) as CLU won 25-21, 25-18, 25-12 to put its first 'W' in the book for the fall. The afternoon match featured a 25-17, 25-13, 25-21 victory over Whitworth (Wash.).
Competition continued on Saturday at the Linde Activities Center on the campus of Claremont-Mudd-Scripps where the Violet and Gold earned a 3-1 (25-14, 25-13, 24-26, 25-11) victory over UT-Tyler before the Regals ran away with a 25-7, 25-11, 25-10 final match 3-0 sweep to round out the weekend.
Junior outside hitter Allie Eason paced the offense in each match and totaled 48 kills with double figures in three matches, nearly earning a fourth despite limited action. She produced two double-doubles, adding 42 digs while chipping in with seven service aces, three block assists and a trio of assists as well.
Splitting time in the setter role were seniors Jena Chavez and Kennedy Peters. Peters passed for 79 assists while Chaves dished out 57. Each of them earned 19 digs and put down three service aces.
Defensively, Nicki Tetherow picked up where she left off her freshman campaign as the starting libero and tallied a total of 52 digs over 13 sets this weekend. She also led the Regals with 10 service aces.
Sarah Pappas was instrumental in the wins, no more so than against UT-Tyler where she hit at a .700 clip with seven kills on 10 swings without an error and a career-high seven block assists. Pappas finished the tournament with 21 kills and a team-leading 15 block assists. Right by her side on the net were Dianna Rohrer and Pua Mo'okini-Oliveira who recorded 12 and 11 block assists apiece, respectively. Mo'okini-Oliveira also hit at a .407 percentage with 27 kills throughout the weekend.
In her Cal Lutheran debut, Michelle Lawrence wasted little time making some noise for her new team. She posted 42 kills, for a .386 average, in the four matches and notched 42 digs and eight block assists. Also appearing in the Violet and Gold for the first time this weekend was a group of six that included Dani Gonzalez (vs. UTT), Molly Holloway (vs. Kean), Jamie Smith (vs. Whitworth), Hope Stewart (vs. UTT) and Carlee Wood (vs. UTT).
Both Eason and Lawrence were named to the 2014 Pacific Coast Classic All-Tournament Team at the conclusion of the weekend.
Cal Lutheran (4-0) will be back in action and at home on Friday, Sept. 5 and Saturday, Sept. 6 for the Seventh Annual Cal Lu Fornia Invitational. The Regals will face Mary Hardin-Baylor, Emory, Pacific Lutheran and Trinity (Tex.) during the two-day tournament.
Box Score: CLU 3, WHE 0
Box Score: CLU 3, WTW 0
Box Score: CLU 3, UTT 1
Box Score: CLU 3, KEAN 0
CLU Twitter: https://twitter.com/clusports
Follow Coach Roesel: @CoachRoesel
Follow Allie: @Regals_VB
CLU Facebook: https://www.facebook.com/clusports
CLU Instagram: http://instagram.com/clusports#