Kingsmen Open Season with 2OT Tie
Men's soccer plays UPS to draw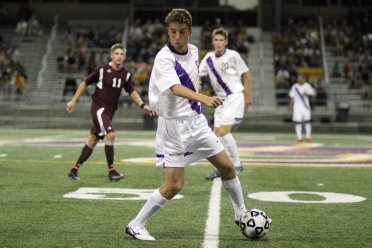 THOUSAND OAKS, Calif. – Before an energetic crowd in their season opener the Cal Lutheran men's soccer team erased an early deficit to equalize the score with Puget Sound in the 81st minute, but when neither team was able to score in 20 extra minutes of play the squads walked away from William Rolland Stadium with a 1-1 draw after 110 minutes of play.
A scoreless first half saw UPS outshoot CLU 6-5, but Kingsmen goalie Jack Duncan came up with four saves in the stanza.
After the intermission the Loggers earned a penalty kick and Sean Ryan found the back of the net for the first scoring play of the game at the 51-minute mark. It was one of just two Puget Sound shots of the half while Cal Lutheran fired off eight.
The one that counted most came in the 81st minute when Gui Borini scored the first goal of his Cal Lutheran career in unassisted fashion to knot the teams late in regulation.
Seemingly the overtime periods belonged to the home team as the Violet and Gold generated a pair of chances in the first 10-minute period, though both shots sailed high. In the second OT, UPS managed one shot, but Duncan again came up with a save to deny the visiting team.
Overall, the Kingsmen produced 15 shots and the Loggers notched nine. CLU earned a corner kick in each of the four periods and limited UPS to a pair, which both came in the first half of action.
Eight different CLU players took to the pitch for the first time tonight. Leading the offensive attack was Zack Larson with five shots, including two on target. Jon Cohen, Casey Kurtenbach, Elmer Molina, Aspen Smith, Chris Ortiz and Pedro Zaccarelli each made his Kingsmen debut tonight as well.
Duncan finished with six saves and the defensive unit of Logan Cone, Julian Hernandez, Alex Wardle and Tal Zaiet all played the entire contest. Additionally, veterans, Wardle and Zaiet tallied two shots apiece.
Cal Lutheran (0-0-1) returns to the field on Sunday, Aug. 31 at 7:30 p.m. to kick off with sister school Pacific Lutheran at Rolland Stadium.
Box Score: CLU 1, UPS 1 – 2OT
Tournament Central: Second Annual Kingsmen Kickoff Classic
CLU Twitter: https://twitter.com/clusports
Follow Tal: @KingsmenSoccer1
CLU Facebook: https://www.facebook.com/clusports
Follow Coach Kuntz: https://www.facebook.com/soccermn
CLU Instagram: http://instagram.com/clusports#