Regals Finish Eighth in Country for GPA
Academic successes noted by ACWPC for women's water polo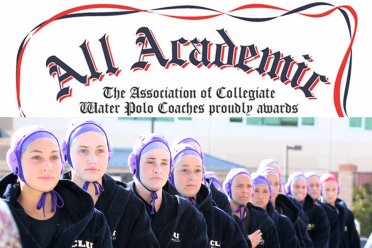 Bridgeport, Pa. – The final award of the 2013-14 academic year was announced this week by the Association of Collegiate Water Polo Coaches (ACWPC). The Cal Lutheran women's water polo team finished eighth in the country academically, across all divisions, while 10 individual Regals were honored with All-Academic accolades in 2014.
The squad jumped 13 spots as a unit with a combined team grade point average (GPA) of 3.44 this year after going 10-21 with a 6-5 Southern California Intercollegiate Athletic Conference (SCIAC) record. It is the second straight year that 10 women have been honored for her efforts in the classroom.
For the second consecutive spring Adrienne Ingalla led the Regals both in the water and in the classroom. As an ACWPC Honorable Mention All-America selection and now three-time ACWPC All-Academic Award winner, she was one of three student-athletes to receive Outstanding recognition, which represents those who achieved between a 4.00-3.71 GPA.
Ingalla, an exercise science major, was the team leader with a single-season record 93 steals, 34 assists and 18 field blocks, adding 45 goals to rank second on the squad. Joining the junior was a pair of freshmen in Katelyn Dembowski and Audrey Neilan. They are both political science majors who saw action in their inaugural seasons at CLU. The duo combined for 12 steals, eight drawn ejections, seven goals and four assists.
Earning Superior status that encompasses student-athletes with a GPA between 3.70-3.41 was the quartet of sophomores Bailey Likewise and Gina Merry as well as freshmen Hannah Andrews and Logan Young.
Likewise and Merry each becomes a two-time honoree in the category. Merry started all but one contest in 2014 and recorded a single-season saves record of 280 and was second with 53 steals. Likewise appeared in 23 games for the Violet and Gold and scored 16 goals. During her first season at Cal Lutheran both Andrews, an English major, and Young, a business major, were impactful in the pool, appearing in 30 and 31 games apiece, respectively. Young was fourth on the team with 39 steals while handing out 15 assists and drawing 11 ejections and Andrews was a balanced player with 10 steals, nine drawn ejections, six assists and four goals.
The remaining three qualifying student-athletes fell in the Excellent category, boasting a GPA between 3.40-3.20. Kaylee Kastrup, is now a three-time recipients and Amanda Jones and Tatiana McCuaig each earned the honor for the second straight year. Each of the trio started in all 31 CLU contests.
As juniors, Jones, a biology major, and Kastrup, an exercise science major, played key roles for the Regals as upperclassmen. Jones was second on the squad with 32 assists, third on the team with both 38 goals and 24 drawn ejections, adding 34 steals and Kastrup finished second after earning 38 drawn ejections and contributed with 32 steals, 20 assists and 10 goals as well. During her second season for the Violet and Gold, McCuaig, an exercise science major, notched 40 steals and 23 assists to rank third in each category, adding 15 goals.
Cal Lutheran will return all 10 awardees and the entire roster in 2015.
Release: 2014 ACWPC All-Academic Team
Follow Tatiana: @regalspolo
CLU Twitter: https://twitter.com/clusports
CLU Facebook: https://www.facebook.com/clusports
CLU Instagram: http://instagram.com/clusports#