Regals Open Season at No. 6
AVCA releases preseason poll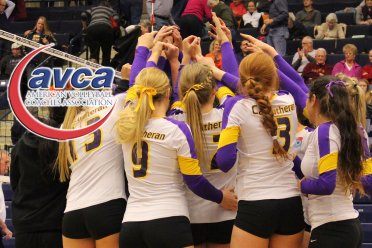 LEXINGTON, Ky. – With the 2014 volleyball season on the horizon the American Volleyball Coaches Association (AVCA) has released its Preseason Poll. The 2013 national runner-up Cal Lutheran Regals enter the competition year ranked No. 6 as announced by the organization on Wednesday.
CLU will endure an even more demanding schedule than it did a year ago with seven ranked opponents, and two others that received votes, on tap for the 2014 campaign. Over the first three weeks of the season the Violet and Gold will suit up against seven of those nine teams.
At the 2014 edition of the Cal Lu Fornia Invitational hosted at the Gilbert Sports and Fitness Center on Sept. 5-6, the Regals will face off with No. 2 Emory (Ga.), No. 13 Trinity (Tex.), No. 21 Pacific Lutheran (Wash.) and receiving votes Mary Hardin-Baylor (Tex.). The following weekend, Sept. 12-13, at the Wittenberg Fall Classic, CLU will serve against No. 11 Washington-St. Louis, No. 14 Juniata (Pa.) and No. 23 Otterbein.
Joining Cal Lutheran in the AVCA Top-25 from the Southern California Intercollegiate Athletic Conference (SCIAC) is No. 19 Claremont-Mudd-Scripps. The two teams will meet on both Sept. 26 and Oct. 21. Also earning votes in the AVCA Preseason Poll is SCIAC foe Pomona-Pitzer. The Regals and Sagehens will converge on the court on both Sept. 25 and Oct. 17.
During a historic year in 2013, the Regals produced an overall 35-2 record after sweeping through the SCIAC portion of their schedule at 16-0 for a fourth consecutive league title, 10th in program history, and earning the second straight SCIAC Post Season Tournament crown. Cal Lutheran advanced to the final game of the NCAA Division III Championships match and became the second team to appear in a national final while finishing with the highest ranking all-time at CLU, surpassing the third slot of the 1995 and 1996 squads.
The Regals concluded their 2013 campaign ranked No. 2 behind defending national champion Calvin (Mich.) who enters this season in the top spot. Rounding out the top-five are Wisconsin-Stevens Point at No. 3 followed by No. 4 Hope (Mich.) and No. 5 St. Thomas (Minn.).
Cal Lutheran will get underway on Friday, Aug. 29 as part of the two-day, Pacific Coast Classic hosted by Claremont-Mudd-Scripps and La Verne. The first match of the season will pit the Regals against Wheaton (Ill.) at 9:00 a.m. followed by a 1:15 p.m. meeting with Whitworth (Wash.). On Saturday, Aug. 30 CLU will face Texas-Tyler and Kean (N.J.) at 11:00 a.m. and 3:30 p.m., respectively. The home opener for the Regals will be in conjunction with the Seventh Annual Cal Lu Fornia Invitational on Sept. 5-6.
Release: 2014 AVCA Preseason Poll
CLU Twitter: https://twitter.com/clusports
Follow Coach Roesel: @CoachRoesel
Follow Allie: @Regals_VB
CLU Facebook: https://www.facebook.com/clusports
CLU Instagram: http://instagram.com/clusports#