Regals Reel in Academic Team Award
CLU among historic class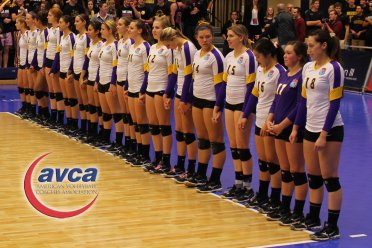 LEXINGTON, KY. – Announced this week by the American Volleyball Coaches Association (AVCA), the 2013 Cal Lutheran volleyball team was among a record 636 schools to earn an AVCA Team Academic Award for their efforts in the classroom last fall. Cal Lutheran's selection marked the third straight year the Regals have received recognition.
To qualify a team must maintain a cumulative grade point average (GPA) of 3.30 or higher on a 4.0 scale. The inception of this recognition began in the 1992-93 academic year and has honored collegiate and high school volleyball teams displaying distinction in the classroom ever since.
"Too often athletic participation is associated with academic underachievement and this stereotype is simply false when it comes to volleyball," said AVCA Executive Director Kathy DeBoer. "Couple the smarts represented by these teams with the competitive experience and team-focused training gained on the court and we have a potent formula for future leadership! What a significant contribution that is by their coaches and schools."
CLU was a part of a record setting year for Division III as one of 126 honored institutions. Also on the list were Southern California Intercollegiate Athletic Conference (SCIAC) foes Chapman and Pomona-Pitzer.
The 2013 Regals set a school record in wins with 35, won their fourth straight SCIAC title and advanced to the NCAA Division III National Championship game.
Release: 2013-14 AVCA Team Academic Award
CLU Twitter: https://twitter.com/clusports
Follow Pua: @puamookini
CLU Facebook: https://www.facebook.com/clusports
CLU Instagram: http://instagram.com/clusports#