McGinn Named Cleveland Golf/Srixon All-America Scholar
Former CLU golfer honored for efforts in classroom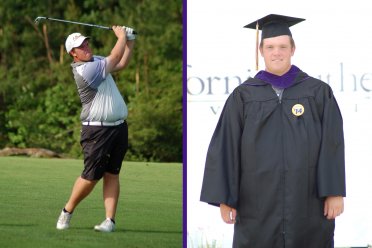 NORMAN, Okla. – Former Cal Lutheran standout golfer Mikey McGinn capped his career with one final honor as he was named a Cleveland Golf/Srixon All-America Scholar last week. McGinn was one of 46 Division III golfers to be named to the list that also featured Division I, II and NAIA players.
In order to be eligible for Cleveland Golf/Srixon All-America Scholar status, an individual must be a junior or senior academically, compete in at least three full years at the collegiate level, participate in 50-percent of his team's competitive rounds, have a stroke-average under 79.0 in Division III, and maintain a minimum cumulative grade-point average of 3.2. A recipient must also be of high moral character and be in good standing at his college or university.
McGinn, who recently finished 25th in his first tour event as a pro, capped his CLU career by earning another trip to the NCAA Championships and was also named First Team All-SCIAC for the third consecutive year this past spring. He successfully defended his individual title at the Master's College Invite and then later took first place at the Rhodes Invitational after carding a school-record 6-under 66 during the first round. The Porterville, Calif. graduated with a degree in Business Administration in May.
Release: 2014 Cleveland Golf/Srixon All-America Scholars
CLU Twitter: https://twitter.com/clusports
CLU Facebook: https://www.facebook.com/clusports
CLU Instagram: http://instagram.com/clusports#