Softball has Seven Named SCIAC All-Academic
Carter, Downing, Lockwood, Martello, Sakamoto, Mertel and Morua earn honor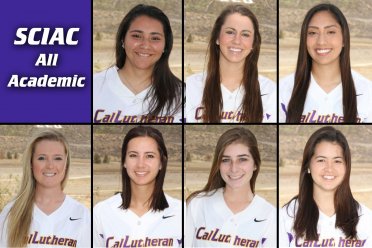 PASADENA, Calif. – After totaling its most wins in a season since 2009, Cal Lutheran had seven of its softball players honored by the Southern California Intercollegiate Athletic Conference (SCIAC) for their academic achievements. Seniors Katelyn Downing, Kelly Lockwood, Stephanie Martello, Kayla Sakamoto along with juniors Kaity Carter, Liz Mertel and Ryanna Morua were all named to the SCIAC Softball All-Academic team.
In order to be eligible, a student-athlete must have at least a 3.40 cumulative grade point average at his or her current institution, must have completed one full calendar year at that institution and must have reached sophomore athletic eligibility.
Downing capped her four-year career with another strong season, breaking the school record for career saves. The West Hills, Calif. native also had career-low 2.90 ERA while going 5-8 in the circle. In 2013, she also finished second at CLU in career appearances with 89, sixth with innings pitched at 407.1, and eighth in strikeouts with 156. Downing graduated in May with a degree in Communications.
Lockwood wrapped up her two-year career in 2014 for the Regals, batting .235 with 16 hits including a double. She also shook off a preseason injury to score five times and drive in six runs. Playing primarily second base, Lockwood finished with a .957 fielding percentage. Lockwood also graduated in May, receiving a degree in Exercise Science.
Across the infield from Lockwood, Martello earned Second Team All-SCIAC at shortstop, finishing second in batting average (.324) and RBIs (21). The Oxnard, Calif. native hit .338 during conference play and drove in a team-leading 16 runs. For the year, Martello also had seven doubles and two triples. Martello is pursuing a degree in Psychology.
A staple in the outfield the past four seasons, Sakamoto capped her career by leading the Regals in hits (36) and runs scored (25). The Honolulu, HI native batted .308 and also led the team with six stolen bases. The speedy centerfielder also had a 15-game hit streak from Mar. 24- Apr. 18. Sakamoto,a four time inductee, graduated in May with a degree in Exercise Science.
Much like Sakamoto, Mertel has been a staple the past three seasons at third base, starting all 114 games since arriving on campus. In 2014, Mertel hit .250 and was third on the team with 18 RBIs. In addition to tallying 24 hits, the Newbury Park, Calif. native also had a .324 on-base percentage. A three-time CLU Scholar-Athlete Society inductee, Mertel is pursuing a degree in Business Administration.
A first-year transfer from Scottsdale Community College in Arizona, Carter appeared in six games while playing in the outfield. In the classroom, Carter is currently majoring in Exercise Science. Rounding out the Regals on the list is Morua, a utility infielder for CLU. This past season, Morua appeared in 27 games and tallied eight hits including two doubles. In the field, Morua finished with 32 assists and 22 putouts. A two-time CLU Scholar-Athete Society member, Morua is double majoring in Criminal Justice and Psychology.
Release: 2014 SCIAC Softball All-Academic Team
CLU Twitter: https://twitter.com/clusports
Follow Taylor: @CLUSoftball
CLU Facebook: https://www.facebook.com/clusports
CLU Instagram: http://instagram.com/clusports#