Rohach Selected as NCAA Woman of the Year Candidate
CLU graduate to represent SCIAC at national level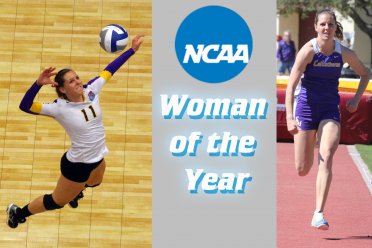 PASADENA, Calif. –Each year conference offices across the country at all NCAA levels nominate worthy candidates for the NCAA Woman of the Year award. In 2013-14 there were two SCIAC standout senior student-athletes meeting the criteria and for the second consecutive year one of the league finalists has come out of Cal Lutheran with graduate Lauren Rohach being selected by the committee.
The NCAA Woman of the Year award honors outstanding female student-athletes who have excelled in academics, athletics, leadership and community service. The 2014 pool includes 446 nominees with 205 from Division I, 75 from Division II and 166 who competed at the Division III level.
Rohach recently represented Cal Lutheran as a Southern California Intercollegiate Athletic Conference (SCIAC) Female Scholar Athlete of the Year.
An eight-time letter winner for the Regals, Rohach played an integral role on both the volleyball and track and field teams for Cal Lutheran by guiding her teams to six SCIAC titles in eight semesters. The volleyball team advanced to Regional play all four years and went on to the NCAA Division III National Tournament twice, finishing second in the country in 2013, while she also qualified to compete at two NCAA Division III Track and Field Championships in multiple events.
As the most decorated CLU athlete, male or female, to don the Violet and Gold, Rohach graduated with 16 All-SCIAC selections and earned American Volleyball Coaches Association (AVCA) All-West Region and All-America Honorable Mention in 2013.
Her name lines the record books with the top school mark in the Long Jump (5.72m) and as part of the 4x100m (47.45), 4x200m (1:45.66) and 4x400m (3:53.12) Relay Teams while appearing on a plethora of other CLU Top-10 lists.
At Cal Lutheran, Rohach was able to play two sports while pursuing a career in optometry as a biology major. She graduated Cum Laude after accumulating academic awards from the United States Track and Field Coaches Association (USTFCCCA), SCIAC (six times) and CLU Scholar Athlete Society (four years) throughout her career.
Outside of the classroom and away from the field of play, she was active in the community as part of clubs and organizations on campus and locally. One of the most rewarding experiences she had was becoming an ambassador for a little girl named Trinity through the organization Team IMPACT.
As a young girl, Trinity was diagnosed with retinal blastoma, which is now in remission. She was welcomed by the Regals volleyball program with open arms and was part of the team throughout the season.
"I made sure she was able to share our journey this year," Rohach shared, "Her presence brought an extra motivation to the team and her story helped me to realize that my potential career in optometry or ophthalmology could help someone like her in the future."
Another way Rohach grew as a senior was through a bitter defeat.
"Later in that season our team played for the national championship, losing by two points in the fifth game," she recalled, "A dream of mine had been to win a national title here, but experiencing that loss has taught me more about myself and those around me than the win ever could, though it doesn't make the sting of the loss go away any easier." Rohach concluded, "My experiences began before just this year, but I think I began to truly appreciate the special things going on around me as it all came to a close."
She has been the epitome of a student-athlete and continues to represent Cal Lutheran in the most honorable way.
Rohach is joined on the ballot by La Verne's Lenore Moreno, another two-sport standout for cross country and track and field. Moreno set a number of LV and SCIAC records in distance events, while claiming a pair of NCAA titles, in her two seasons for the Leopards.
In late August the top 30 (10 from each NCAA division) will be announced as national honorees. After narrowing down the top nine (three from each division) in September, the 2014 NCAA Woman of the Year will be announced on Sunday, Oct. 19 in Indianapolis, Ind. as part of an annual awards dinner.
SCIAC Release: NCAA Woman of the Year
SCIAC Scholar Athletes: 2014 SCIAC Scholar Athletes
CLU Twitter: https://twitter.com/clusports
CLU Facebook: https://www.facebook.com/clusports
CLU Instagram: http://instagram.com/clusports#