Water Polo Unveils 2014 Campaign
CLU announces 18 game schedule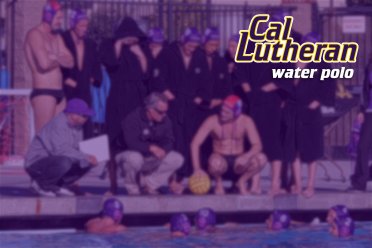 THOUSAND OAKS, Calif. – Six home games at the Samuelson Aquatics Center and four tournaments highlight the Cal Lutheran men's water polo scheduled announced by Wednesday by head coach Craig Rond. The Kingsmen are set to play an 18 game regular season schedule including eight against Southern California Intercollegiate Athletic Conference (SCIAC) foes.
The Kingsmen open the season on Sept. 6 in La Jolla, Calif. as they take part in the UC San Diego Invitational.
The next two weeks Cal Lutheran makes back-to-back trips to Riverside, Calif. The weekend of the 13th, CLU plays in the Inland Empire tournament and then on Sept. 19, the Kingsmen go to the Cal Baptist Tournament.
Cal Lutheran finishes its tournament schedule during the regular season Oct. 3-4 when it participates in the annual Gary Troyer Tournament in Claremont.
Cal Lutheran opens its home schedule with a single game against Mercyhurst and double header against Concordia and Valley College. CLU's home-opener against the Lakers is on Oct. 9 at 5:00 p.m. while the doubleheader with Concordia and Valley College is on Oct. 15.
Later in the week, CLU opens SCIAC play with a home game against Chapman. Following road trips to Claremont-Mudd-Scripps and La Verne, CLU returns to Thousand Oaks to host Caltech on Oct. 29.
The Kingsmen round out the regular season schedule with away games against Whittier and Occidental and host Redlands on Nov. 5 and Pomona-Pitzer on Nov. 15 for Senior Day.
The SCIAC Water Polo Championships are set for Nov. 21-23 and will be hosted by Redlands.
Release: 2014 Men's Water Polo Schedule
CLU Twitter: https://twitter.com/clusports
CLU Facebook: https://www.facebook.com/clusports
CLU Instagram: http://instagram.com/clusports#