Women's Soccer Releases 2014 Schedule
Regals set for fall campaign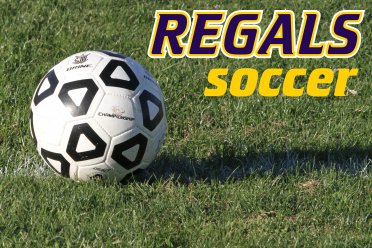 THOUSAND OAKS, Calif. – Released this week by head women's soccer coach Frank Marino, the 2014 Cal Lutheran schedule will once again challenge the four-time defending Southern California Intercollegiate Athletic Conference (SCIAC) champion Regals.
Before classes even get underway for the 2014-15 academic year the Violet and Gold will have already played a pair of games as part of an opening weekend tournament hosted by CLU. The Regals welcome nine other schools, mostly from the SCIAC and Northwest Conference, including Claremont-Mudd-Scripps, La Verne, Occidental, Pacific (Ore.), Pacific Lutheran (Wash.), Pomona-Pitzer, Redlands, Southwestern (Tex.) and Willamette (Ore.) to compete at the two-day event.
"We are excited to host such a strong group of West Region programs at Cal Lutheran this year," Marino shared.
On Friday, August 29 the season begins with a quintuple-header at Rolland Stadium as the women's program hosts the first day of the 10-team tournament before the Kingsmen begin their season to close out the long day of soccer. The Regals take the field for the first time of the year against sister school Pacific Lutheran at 5:00 p.m. in the final women's contest of the day. Competition begins at 11:00 a.m. with games at 1:00 p.m. and 3:00 p.m. as well.
On Sunday, the teams will be back at the pitch starting at 9:00 a.m. with CLU facing Willamette at 3:00 p.m. to close out the weekend in the eighth and final game. A tournament central website with a complete schedule and additional information will be available closer to the date of competition.
The third non-conference home match of the season is set for Friday, Sept. 5 at 7:00 p.m. against Hardin-Simmons (Tex.).
"We open with one of the most difficult schedules in the country, facing teams like Pacific Lutheran and Hardin-Simmons," Marino shared. "We are home heavy to begin the season for the first time in a while so hopefully we will be a little more comfortable to start the year off."
Rounding out the preseason portion of the schedule will be games against Linfield (Ore.) and Whitman (Wash.) as part of a tournament hosted by UC Santa Cruz on Sept. 7-8, respectively, at 1:00 p.m. each day as final preparations before league play starts. The final non-league game of 2014 is set for Monday, Oct. 13 when the Regals and UCSC Banana Slugs square off at 3:00 p.m. in Thousand Oaks.
SCIAC play commences on the road with games against Claremont-Mudd-Scripps (Sept. 17) and La Verne (Sept. 20) with the league home opener set for Wednesday, Sept. 24 against Redlands to kick off a three-game home stretch. The remainder of the regular season schedule will alternate between multiple road and home games with the final series at Rolland Stadium featuring Occidental and Chapman. The season finale and senior day against the Panthers will begin at 4:00 p.m. on Saturday, Nov. 1.
"Our challenging preseason schedule should prepare us for a tough league opener against CMS [a team that knocked off CLU in the SCIAC Post Season Tournament Championship game last year]," Marino went on, "We just need to stay healthy and use a difficult opening portion of our schedule to our advantage."
The SCIAC Post Season Tournament is scheduled for Nov. 6-8 at a site yet to be determined. NCAA Division III Regional and National play will follow, beginning the weekend of Nov. 15-16, again at a location not yet known. The NCAA Division III Women's Soccer Championships will take place in late November and early December.
Release: 2014 Schedule
CLU Twitter: https://twitter.com/clusports
Follow Karly: @Karlyloberg00
CLU Facebook: https://www.facebook.com/clusports
CLU Instagram: http://instagram.com/clusports#