Kingsmen Release 2014 Schedule
CLU unveils 2014 campaign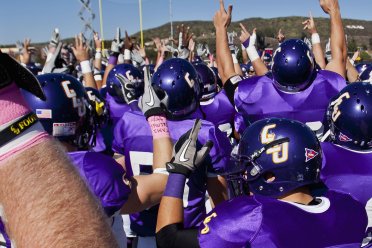 THOUSAND OAKS, Calif. – The Cal Lutheran football team announced its 2014 schedule Wednesday afternoon. The CLU schedule is highlighted by two non-conference games against Willamette and Pacific Lutheran and five home games.
"The 2014 schedule is similar to years past in that it poses significant challenges in the first half of the season," said eighth year head coach Ben McEnroe. "We're on the road at a Top 25 team in PLU to open the season, then face one of the better teams in the Northwest Conference in Willamette at our place."
The Kingsmen open with Pacific Lutheran in Tacoma, Wash. on September 13th at 1:00 p.m. The Lutes have high hopes in 2014 after just losing to Linfield twice in a year ago.
The following week, CLU has its home opener against Willamette, who finished 7-2, falling only to PLU and Linfield.
Cal Lutheran then travels to Whittier for its Southern California Intercollegiate Athletic (SCIAC) opener on October 4th. The next weekend the Kingsmen take on Redlands on the road on October 11th.
CLU then hosts Pomona-Pitzer on October 18th for homecoming. Kickoff is scheduled for 1:00 p.m.
The Kingsmen finish off their league schedule with a home game against Chapman, away against Claremont-Mudd-Scripps before concluding the season at Rolland Stadium with games against Occidental and La Verne.
CLUsports.com will have live stats and video for selected games.
Release: CLU 2014 Football Schedule
CLU Twitter: https://twitter.com/clusports
Facebook: https://www.facebook.com/clusports
CLU Instagram: http://instagram.com/clusports#