Petersen Drafted in 33rd Round by Angels
Highest CLU draft pick since 2011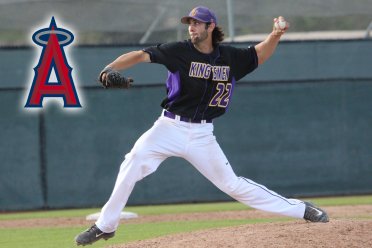 THOUSAND OAKS, Calif. – Cal Lutheran pitcher/ outfielder Jake Petersen was selected in the 33rd round (No. 989 overall) by the Los Angeles Angels of Anaheim in the 2014 Major League Baseball First-Year Player Draft on Saturday. Petersen becomes the 24th Kingsmen drafted in program history and is the highest selection since Ian Durham was chosen in the 28th round during the 2011 draft.
The 6-foot-4 Cal State Northridge transfer was a two-way player for CLU, serving as the team's ace and three-hole hitter. Petersen helped the Kingsmen to two straight Southern California Intercollegiate Athletic Conference (SCIAC) titles and two victories during the 2014 NCAA McMinnville Regional.
2014 was a banner season for Petersen as he became the first CLU player to earn First Team All-America honors in back-to-back years. On the mound, Petersen led the Kingsmen with a 9-2 record on the mound. The left-handed pitcher struck out a career-high 75 in 87.2 innings of work. At the plate, Petersen also was CLU's top hitter as he compiled a .434 batting average after collecting 69 hits. The senior also had 18 doubles and scored 42 runs. Petersen finished his Cal Lutheran career as the school's leader in batting average and 10th in strikeouts.
Along with Petersen, Division III has had a strong presence in the 2014 draft. Pacific Lutheran pitcher Tyler Lubking, who Cal Lutheran actually beat this past season, was the highest Division III player drafted, being picked up in the 14th round by the Tampa Bay Rays.
2014 MLB Draft Tracker: 2014 MLB First-Year Player Draft
Facebook: https://www.facebook.com/clusports
CLU Twitter: https://twitter.com/clusports
Follow Nicho: @CLUBaseball
Facebook: https://www.facebook.com/clusports
CLU Instagram: http://instagram.com/clusports#