Regals Release 2014 Schedule
CLU looks for return trip to National Final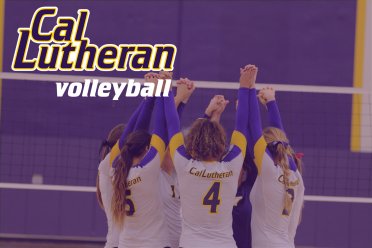 THOUSAND OAKS, Calif. – Released this week by Cal Lutheran head coach volleyball Kellee Roesel, the 2014 schedule will feature another slate full of American Volleyball Coaches Association (AVCA) Top-25 Division III teams beginning early in the year and continuing throughout the fall.
The season gets underway against young up-and-coming competitive programs for the first four matches of the year at the Pacific Coast Classic hosted at Claremont-Mudd-Scripps and La Verne on August 29-30.
When the Regals return home for the first time, it will be to host the Seventh Annual, 15-team, Cal-Lu-Fornia Invitational on Sept. 5-6. Cal Lutheran is set to face three Top-25 teams in No. 5 Emory (Ga.), No. 15 Trinity (Tex.), No. 21 Pacific Lutheran (Wash.) and a fourth, Mary Hardin-Baylor (Tex.), that advanced to the 2013 NCAA Division III Tournament.
Additionally, the Cal-Lu-Fornia Invitational will feature a pair of Southern California Intercollegiate Athletic Conference (SCIAC) teams that advanced to the Playoffs a year ago including No. 24 Claremont-Mudd-Scripps and Pomona-Pitzer.
A week later, Cal Lutheran travels to the Wittenberg Fall Classic in Ohio where the Regals again face a trio of ranked teams from the final 2013 AVCA Poll. The weekend gets underway against traditionally competitive No. 13 Washington- St. Louis (Mo.) followed by No. 14 Juniata (Pa.) and No. 20 Otterbein (Ohio) with Heidelberg (Ohio) rounding out the trip.
"This preseason schedule is one that will test our young group early and often," Roesel shared. "We are fortunate to have so many perennial powerhouses on our schedule," she added, "We will be able to measure ourselves early against some of the best in the country and by the middle of September we should know where we stand." Roesel finished by saying, "That is exactly what we need heading into a very competitive conference schedule."
A week after returning from the Midwest the Violet and Gold jump right into league action where competition remains high as CLU aims at clinching a fifth consecutive SCIAC championship.
On Saturday, Sept. 20 the Regals host Pomona-Pitzer inside of the Gilbert Arena and the second home match of the season will pit CLU against the Claremont-Mudd-Scripps Athenas on Friday, Sept. 26.
"Both CMS and PP will be tough opponents this season for us," Roesel went on, "Chapman is always a contender and overall there is a lot of youth in the league this year," she added, "It should be fun to be a part of."
The final home and regular season match of the season on Saturday, Nov. 1, against Whittier also serve as senior day.
With the exception of back-to-back road games at Whittier and Pomona-Pitzer on Oct. 7 and 17, respectively, the team will be alternating home and away contests throughout the league portion of the season. All SCIAC games on Tuesdays and Fridays will be played at 7:30 p.m. while Saturday games are set for 6:00 p.m. A breast cancer awareness night will also take place during league play though the date has not been decided.
The SCIAC Post Season Tournament is scheduled for Nov. 6-8 at a site yet to be determined and the NCAA West Regionals will be held Nov. 14-16, again at a location not yet known. The NCAA Division III Volleyball National Championship will be held in Newport News, Va. from Nov. 21-23.
Release: 2014 Schedule
CLU Twitter: https://twitter.com/clusports
Follow Pua: @puamookini
CLU Facebook: https://www.facebook.com/clusports
CLU Instagram: http://instagram.com/clusports#