CLU Softball Coach Fischer Invited to Team USA Training Camp
Assistant coach to trade Violet and Gold for Red, White and Blue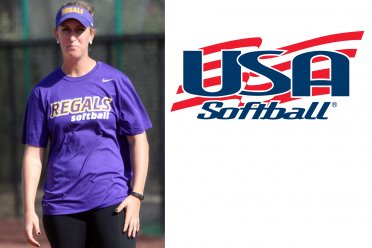 THOUSAND OAKS, Calif. – The softball season for the Regals came to a close in late April, but Sam Fischer has been hard at work fine tuning her own game. The 2012 Loyola Marymount University graduate and first year assistant coach at Cal Lutheran was invited to the USA National Team tryouts from June 8-20.
No stranger to the spotlight, Fischer pieced together a very successful collegiate career at LMU where she was selected as the first All-American in program history while hauling in a pair of Conference Player of the Year honors and three First Team All-Conference accolades. During her time at Loyola Marymount she broke nine school and conference records and in 2012 she led the nation in both batting average (.492) and on base percentage (.665) for the Lions.
Following her college playing days, she went on to represent Team USA during the summer of 2012 and will look to don the stars and stripes again in 2014.
The personal expectations are very high for Fischer as she said, "I have been working harder than I ever have in my life for this and I expect it to show on the field."
She will not be in unfamiliar territory as the opportunity to train with the National Team, as an infielder, will reunite her with one of her best friends, Amanda Chidester, as well as other members of the 2012 squad. With a lot of returning players, the hope is for the team to gel together quickly.
The anticipation and excitement have grown since receiving the invitation to compete for a spot in mid-February.
"I am excited about getting back on the field," she went on, "I miss playing throughout the year so getting out there again with my friends will be worth the wait. I am also very excited about traveling because one of the best perks of playing for the National Team is getting to see the world!"
Team USA is set to play in the World Cup (Irvine, Calif.) before heading for international ground. The Canada Cup (Surrey, B.C. Canada) will be followed by a week of action in Azzano, Italy with the World Championship in Haarlem, Netherlands.
A solid core of talented players will pay dividends according to Fischer who believes a crown is well within reach, saying, "I think we are going to be very strong and compete to win the World Championships."
At the conclusion of the 13-day camp in Virginia, including a trio of exhibition games, the team will be announced on June 22.
Fischer helped guide Cal Lutheran (19-19, 13-15 SCIAC) to its best record since 2009 as the Regals finished sixth in the overall Southern California Intercollegiate Athletic Conference (SCIAC) standings.
Selection Camp: 2014 Softball National Camp
CLU Twitter: https://twitter.com/clusports
Follow Taylor: @CLUSoftball
CLU Facebook: https://www.facebook.com/clusports
CLU Instagram: http://instagram.com/clusports#