ABCA Tabs CLU No. 9 in Final Poll
Kingsmen finish season among nation's best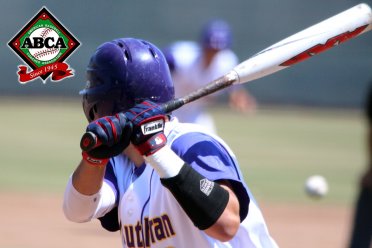 ALLENTOWN, Pa. – The 2014 NCAA Division III baseball season is now in the books and the final American Baseball Coaches Association (ABCA) Poll of the spring was released this week with Cal Lutheran landing in the No. 9 spot after advancing to the round of 32 in Regional play earlier this month.
The Kingsmen combined for the best record in program history since the 1992 team was the national runner-up during their inaugural season competing at the D-III level. CLU produced a 36-10 mark this year.
Aiding that success was an all-around performance with fielding, hitting and pitching that all appeared among the nation's best.
A solid fielding effort from the Violet and Gold left the squad third in the country with a .973 percentage.
At the plate, the Kingsmen tallied a .330 batting average as a unit to rank 20th in Division III. The 111 doubles that CLU players connected for were fifth most in the country as the Kingsmen averaged 2.41 doubles per game (11th). Cal Lutheran finished the season among the Top-10 teams in the country for both runs (381) and hits (531) to place ninth and 10th, respectively. A well-rounded approach saw the Kingsmen use power hitting as well as small ball as the line-up put down 51 sacrifice bunts, 10th most nationally this season. Overall, CLU scored 8.3 runs per game to rank 11th.
On the hill, senior closer Aaron Roth shared the national lead with 13 saves in his final campaign, which surpassed his previous CLU single-season record of 12, achieved in 2013, as he also added to his CLU career saves record by pushing the total to 25. Roth appeared in 26 games to put him fourth among active pitchers in 2014. Jake Petersen landed in the top tier of pitchers as well, using nine wins to rank 10th.
Cal Lutheran earned back-to-back Southern California Intercollegiate Athletic Conference (SCIAC) regular season and SCIAC Post Season Tournament titles and NCAA Playoff berths in 2013 and 2014 with a combined 71-19-1 record over two years.
Release: ABCA Poll – Final
CLU Twitter: https://twitter.com/clusports
Follow Nicho: @CLUBaseball
Facebook: https://www.facebook.com/clusports
CLU Instagram: http://instagram.com/clusports#