Petersen Picks Up ABCA/D3baseball.com All-America Honors
CLU senior adds accolades to accomplishments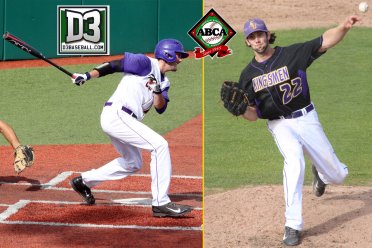 MINNEAPOLIS, Minn. –After earning First Team All-West Region from D3baseball.com last week and ABCA First Team All-West Region this week, senior utility man Jake Petersen added a second consecutive All-America honor to his name from each organization. He also becomes the first player in Cal Lutheran baseball history to be selected as an All-American in back-to-back seasons.
Players chosen to Regional Teams become eligible for All-America awards each year. Earlier this spring Petersen also hauled in First Team All-Southern California Intercollegiate Athletic Conference (SCIAC) status before he was selected to the ABCA First Team All-America and the D3baseball.com Second Team All-America as a utility player for both.
A dual threat on the diamond, Petersen played in the outfield and served as the Kingsmen ace while batting third in the order during a season in which Cal Lutheran (36-10) produced the best record the program has seen since 1992 when CLU joined Division III.
He graduated with a number of appearances on the CLU Top-10 lists for career and a single-season with the top overall career batting average at .439. Though his collegiate playing days are over, the future is still bright for the Thousand Oaks, Calif. native as he awaits the Major League Draft in early June with the possibility of being selected.
Release: D3baseball.com 2014 All-American Team
Release: ABCA 2014 All-American Team – official release unavailable at time of release
Facebook: https://www.facebook.com/clusports
CLU Twitter: https://twitter.com/clusports
Follow Nicho: @CLUBaseball
Facebook: https://www.facebook.com/clusports
CLU Instagram: http://instagram.com/clusports#